In 1851 Charles Forscutt (various spelling in records consulted) was a shoe maker in Port Vale, Bengeo, Hertford. In 1859 the paper reported a court case "Foskett v Barnett. - The plaintiff is a photographic artist at Hertford, and his wife keeps a school. ..." The 1861 census records him as a photographer at Old Cross, Hertford. The first advert I could find indirectly mentions his photographic interests - "For Sale. Harmoniums & Pianofortes at Charles Forscutt's Photographic Rooms, Old Cross, Hertford."
Herts Mercury 27th August 1859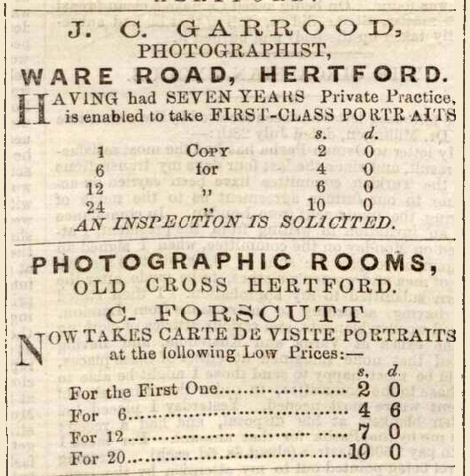 Herts Guardian, 20th August 1864
In 1864 there was an advertising war between the photographers and an advert records "C. Forscutt now takes carte de visite portraits at the following low prices:- For the first one 2s ... ..." In 1865 he offered "Portraits 1s per dozen. Send your carte de visite with addressed envelope and 13 stamps, and in a few days you will receive 12 adhesive postage stamp portraits ..."
Herts Guardian 2nd July 1864
Lady with bustle

by C. Forscutt,

Old Cross, Hertford

An extremely faint name can be enhanced. The Mrs Lewis was probably Anna Maria Lewis, born c 1837, wife of Thomas Robert Lewis, farmer of 220 acres at Hertingfordbury Park, in 1881. As Anna Maria Vallentine married Thomas Robert Lewis in 1874 the picture must have been taken between 1874 and 1879.
In 1878 he is listed in the Post Office Directory as a photographer, at Old Cross, while Mrs Elizabeth Forscutt has a ladies' school at the same address. Probate records show he was a photographer at Hertford when he died on 1st November 1879, and his wife was still running the school at Old Cross at the time of the 1881 census. The 1882 Directory has the following entries:
Forscutt Elizabeth (Mrs), preparatory school for young ladies & gentlemen, Old Cross

Forscutt Sarah Elizabeth (Miss), photographer, Old Cross
In 1884 "Mrs Forscutt, photographer" was a tenant in a house in Old Cross which was sold as part of a freehold estate (Herts Mercury, 24th May & 21st June 1884) and her death was reported "20th inst., at Old Cross, Elizabeth, widow of the late Mr. C. Forscutt, aged 61" (Herts Mercury, 27th September, 1884).