Hertfordshire Postcard Artists, Photographers, Publishers, etc.

Thomas VIPOND

(1831-1918)

Photographer in Hertford 1859/60

Herts Guardian 8 November 1859
Thomas was one of a number of mobile photographers visiting Hertford in the 1850s. In November 1859 "Mr. Vipond is taking photographic portraits at the Victoria Inn, Market Place, [Hertford] on an improved principle, in good style, and at moderate prices." In March 1860 a photographer based at the Victoria (possibly Thomas was still there) was witness to a trial involving the theft of cigars from Mr Raw's shop in Honey Lane, while in the 1861 census Thomas was in a van parked on the Edgeware Road, Hendon.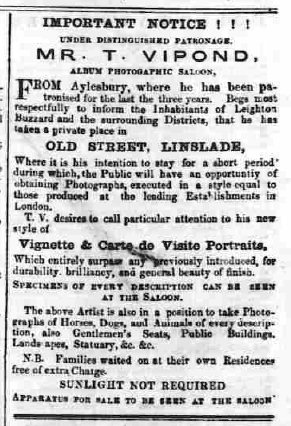 The advert recording a visit to Linslade from the Leighton Buzzard Observer of 19 May 1863, makes it clear he was based in Aylesbury, and touring round offering his services. However references in the Bucks Herald make it clear he was still based in Aylesbury.
PHOTOGRAPHY AN AID TO JUSTICE. - Mr. Vipond, of Station Street [Aylesbury], a day or two ago, took a carte de visite portrait of Amelia Allen, the "lady" who is to be tried on Tuesday next at the Quarter Sessions, on a charge of picking pockets in Aylesbury Church, on the occasion of the recent choral festival. The carte de visite has been multiplied, and copies sent to the police authorities of the large towns, in order that, should the prisoner be a professional pickpocket (though she describes herself as a "needlewoman"), her features may be recognised and her antecedents ascertained. Bucks Herald, 25 June, 1864.
A court case in Aylesbury in 1865 (where he was an innocent good Samaritan who ended up getting sued) confirms that he was still based in Aylesbury.
The Grantham Journal of 18 & 23 December, 1869, contains a long advert indicating he had set up a carte-de-visite saloon, near the Church, Swinegate, Grantham. Superior ivory-finished carte-de-visite three for 2s 6d or 7s a dozen ... ... and further adverts appear in the same paper following years and in 1873 a short advert recorded "To be had at Mr. Vipond's Portrait Rooms every kind of musical instruments and carte de visite of every kind at the lowest prices." He continued in Grantham as the following advert from 13 December 1879 shows: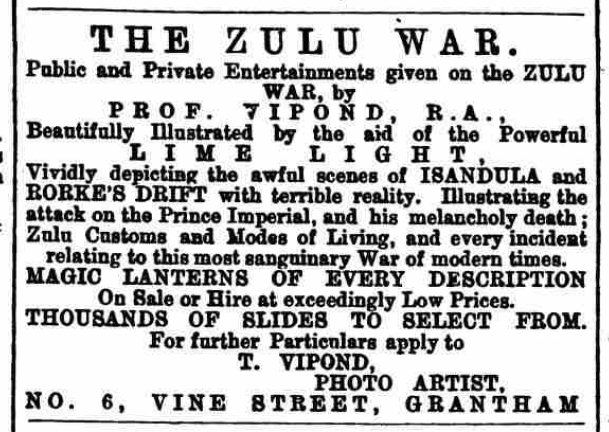 | | | | |
| --- | --- | --- | --- |
| | Frances Eleanor | Whitechapel | Sept 1856 |
| | Thomas | Whitechapel | March 1858 |
| | John Collier | Bethnal Green | March 1860 |
| | Sarah Dellis | Clerkenwell | March 1862 |
| | Josephine Delves | Aylesbury | March 1864 |
| | Albert Philip | Aylesbury | Sept 1865 |
| | Benjamin | Amphill | March 1867 |
| | Henry (death aged 0) | Grantham | June 1870 |
| | Samuel | Grantham | March 1871 |
| | Henry Augustus | Grantham | Sept 1872 |
| | Lily Victoria | Grantham | Dec 1873 |
A court case "A Photographer charged with deserting his Wife" in the Grantham Journal of 23rd March 1895 provides some additional background: Thomas Vipond, of Congleton, photographer, lately of Grantham, was recently charged at Worksop with neglecting to maintain his wife. ... Eleanor Vipond said she was married forty years ago at Friars Mount Church, London. [Thomas Vipond (father Thomas Vipond) married Eleanor Kemp) married Elenor Kemp on 14th November 1859.in Bethnal Green.] She had ten children. [See list of birth registrations] For twenty years they had lived at Grantham, when he deserted her there about eight years ago, and came to live at Worksop. He did not contribute to her maintenance. She carried on the business as photographer at Grantham ... ...
He was describes as a photographer in the 1911 census, while lodging in Stafford, and his death was registered in Stafford in 1918, aged 88.