The PCM (March 2009) lists 5 cards (presumably printed as a set of six).
One card (which is signed) "The Old Maidens Prayer" appears to have been printed in two forms with the same back and same plate - apart from a rectangular area which holds the revised wording.
The earliest located is dated from December 1907 and they represent "work in progress" when the London View Company Ltd closed down in August 1907 - but publication went ahead, involving H. Vertigen and the usual Saxony printer. The following observations point to this possibility: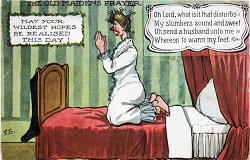 The Old Maiden's Prayer
May your wildest hopes be realised this day!
Oh Lord, what is it that disturbs
My slumbers sound and sweet
Oh send a husband unto me
Whereon to warm my feet
Signed F S
[Note right hand corner changed - curtains do not match exactly over the join line]
No Publisher
Unposted
19 December, 1907 April 1908