Here's a book that provides a wonderful example of just how much information - and illustrations - you can pack into 288 pages. The layout of "The London Gunners come to Town" owes much to a scrap-book approach, each page being busy and interesting without being overwhelming. ... Buy a copy if you have an interest in Hemel Hempstead in particular, or the war years in general. You'll rarely come across a richer tapestry of information and illustration!
John Titford, Yesterday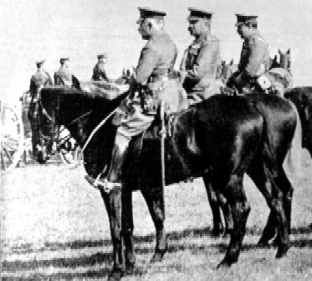 Lord Kitchener at Gorhambury, near St Albans, October 1914
This is not so much a book which you are unable to put down as one which you will be tempted to pick up again and again to discover something new each time. … [It makes] a fascinating and well-documented account of social and military aspects of the First World War.
Major General Younson, Journal of the Royal Artillery
The sad, sad story of yet another facet of the 1914-18 war is told in this book which deals with the arrival of London regiments in St Albans and nearby Hemel Hempstead. ... An excellent index helps the reader through the story of this 280 page book with over 300 illustrations. It will prove a gold mine for those who are still intrigued with how the first world war altered the course of history, even in just one small corner of Hertfordshire, as it blotted out the flower of a generation.
Beryl Carrington, Herts Advertiser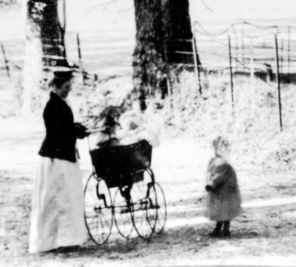 Walking in Gadebridge Park, Hemel Hempstead
This is another of those splendid books whose authors have devoted much of their lives to their research in their local community. Bertha Reynolds was a child during the war and recalls events with clarity and charm. Other chapters deal with the local council's activities, soldiers' experiences of recruitment and local training, as well as with events on the Western Front. Profusely illustrated with hitherto rarely-seen material, this book is excellent value for money, especially for anyone with a special interest in Hertfordshire.
Stand To! (Journal of the Western Front Association)
It contains much more than the title suggests: even the sub-title does not do it justice. ... In spite - or because - of its breathless style and scrapbook presentation, this book creates a vivid impression of Hemel Hempstead during the first world war. ... [I] am compelled to keep returning for a further browse, such is the strength of its fascination.
A.J., Hertfordshire's Past
It will appeal to anyone interested in the local history of the area ... or have ancestors who served in the London Regiment or Territorial Army ... a useful as well as an interesting read.
Family History Magazine
The section on the work of the Council provides a good insight into the problems common to all local authorities at the time, air raids, the VTC, … dealings with conscription and rationing, and the results of the influx of so many soldiers is very revealing. A large amount of excellent material comes from the local newspapers, a very useful book with sources given for all quotations - most unusual in a book of this type, but very refreshing.
Bob Wyatt, Bulletin Military History Soc.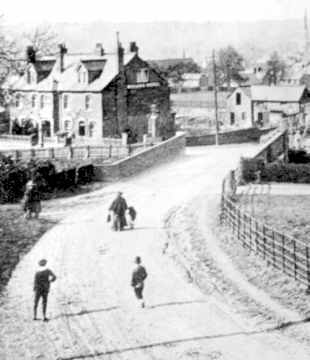 Midland Hotel, Hemel Hempstead
If Santa put a gift token in your stocking ... My own favourite covers the First World War period in Hemel Hempstead. It's a very readable book and the sort you can dip into time and time again.
Tom Price, The Gazette
This is an unusual book in that it looks at the First World War from a number of different viewpoints. ... It is very much a book for browsing. Taken from cover to cover, it might saturate, but grazing in short bursts and at random will bring rewarding snippets of news and information that are both novel and thought-provoking.
J.W.T., Gunner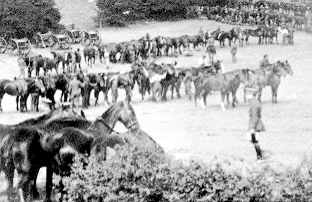 RFA Horses at Hemel Hempstead
The easy style and the many illustrations help to create an appropriate sense of period.
Hertfordshire Countryside
The book represents excellent value for money, being packed with information. Its extensive indexes include over 1000 names.
Family History News and Digest