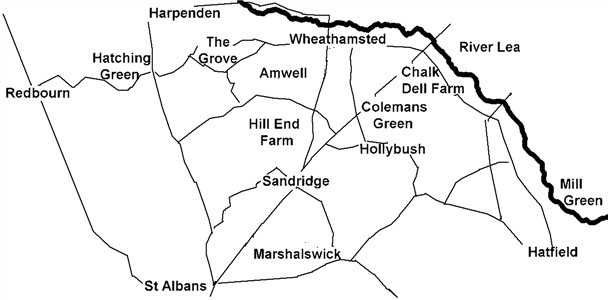 The opening scenarios of two exercises involving the 6th Brigade R.F.A. have survived.. On 3rd December the White (imaginary) enemy force was concentrated at Leighton Buzzard while the Red force was (assumed to be) concentrated at Hertford. White moves his forces to interfere with the crossing of the River Lea at Mill Green, north of Hatfield. The Hemel Hempstead-Redbourn-Wheathamsted Road is a major supply route for White, and the Midland Railway from Hemel Hempstead to Harpenden is an impassable river crossed only by a bridge N.E. of Redbourn, which is guarded by a detachment of White forces. The country north of the Harpenden-Wheathamstead-Hatfield road was ruled out-of-bounds.
The area of the exercise was open farm land, winding lanes with hedgerows and scattered patches of woodland. A shallow dry valley runs north/south through Sandridge. A large wood (Symondshyde Great Wood) is situated immediately to the east of Hollybush (a group of cottages to the east of Hammonds Farm).
At 10.30 a.m. an advance guard consisting of King Edwards Horse (less one squadron), "A" Section Signal Company, 6th London Brigade R.F.A. (less the 15th Battery), 6th London Infantry Brigade and 6th London Field Ambulance reach the forked roads due east of Hatching Green. At this moment the commander, General Willoughby, receives information that hostile cavalry and infantry have been seen on the high ground immediately to the east of Sandridge. He issues orders that the cavalry will reconnoitre the line Chalk Dell Farm to Hollybush and from Point 422 towards St Albans and Marshalswick, while the vanguard will make good the high ground about Hill End Farm. The 6th Brigade R.F.A., under Lieutenant Colonel Machugh, will support the advance from a position of observation near Point 413. At 10.45 a.m. the infantry will advance via Amwell and make good the high ground around Coleman Green and Hollybush. The 6th Field Ambulance will establish a dressing station at The Grove and luggage labels were provided to tie on soldiers designated as casualties needing attention.
On the 10th December a similar "Red" group was given the task of marching on Kings Langley to cover the crossing of the River Bulbourne against imaginary White forces in the Watford area. This time they started in the area round St Stephen's Church, St Albans, and travelled across country via Potters Crouch, Serge Hill and Bedmond.
Extract from The London Gunners come to Town
A personal account of another exercise is given on the Sarratt page