More permanent accommodation
The Camp at Gadebridge, Hemel Hempstead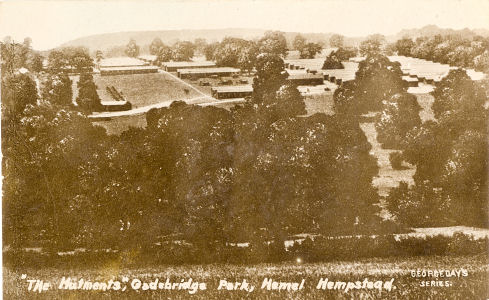 The Hutments, Gadebridge Park, Hemel Hempstead
"The camp where Jim was stationed for 3 months, before going to France on July 18, 1917."
When it became clear that the war, and hence the need to train more soldiers, was likely to continue for some time, a number of more permanent camps were erected. The one at Gadebridge was ready for occupation in April 1915, and there are various references to it in Council minutes - and one of the problems was the supply of sufficient water, and the disposal of manure from the horses.
The "Jim" mentioned on the back of the above postcard may have been one of the last to train there as by the Autumn. Shortly afterward training ceased and in September 1917 the following note appeared in the Council minute book:
Gadebridge Camp: The Council has under consideration the rumoured proposals of the Military Authorities to convert the Gadebridge Camp into a Venereal Hospital. It is resolved that the Mayor be requested to communicate with the War Office as to the accuracy of the report and that he be authorised to take such steps as he may deem advisable to secure the abandonment of the proposal.
Horror of horrors - and when the plan went ahead in 1918 the camp was a subject that was not talked about and nothing appears in the paper until the following headings appeared: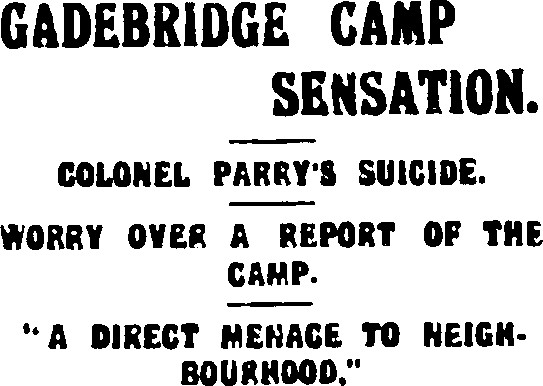 The camp was closed not long afterwards - and all traces of its shameful use eliminated. The huts were sold off and reused - and one is still standing at New Mill, Tring.