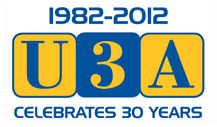 U3A stands for the University of the Third Age, which is a self-help organisation for people no longer in full time employment providing educational, creative and leisure opportunities in a friendly environment. It consists of local U3As all over the UK, which are charities in their own right and are run entirely by volunteers. Local U3As are learning cooperatives which draw upon the knowledge, experience and skills of their own members to organise and provide interest groups in accordance with the wishes of the membership. The teachers learn and the learners teach. Between them U3As offer the chance to study over 300 different subjects in such fields as art, languages, music, history, life sciences, philosophy, computing, crafts, photography and walking. A typical U3A has about 250 members but could be as small as 12 and as large as 2000.
From U3a Web Site
The U3A movement has been rapidly expanding and the list on the right are the study groups that were listed for Hertfordshire in August 2012. Some of the original groups covered a large area and have grown very big, so smaller groups are forming. For instance the modern borough of Dacorum (based in Hemel Hempstead) now also has separate groups for Tring and Northchurch & Berkhamsted. The Tring Group is already so big that there is no hall in the town big enough to hold a popular monthly meeting!
I have listed all the Hertfordshire groups that currently display a list of groups online have at least one family history or genealogy groups (some have more than one because of the popularity of the subject). Most also have a history group, but I have only listed those which specifically mention local history. There are similar groups all over the country. These groups are for local retired people, and if you are interested in family history (particularly if you are a elderly beginner) it is well worth joining as the study groups form an excellent forum for exchanging experiences about "how to research your family" where ever your ancestors come from.
The U3A and other Learning in Retirement organisations are part of a worldwide movement with groups in Australia, Canada, Ireland, New Zealand, South Africa, the U.S.A. and many other countries. I suspect that most include family history among their many other activities.
Bishop's Stortford
History & Family Tree Research