William Brown
Auctioneer & Land Surveyor, High Street, Tring

Tring Agricultural Association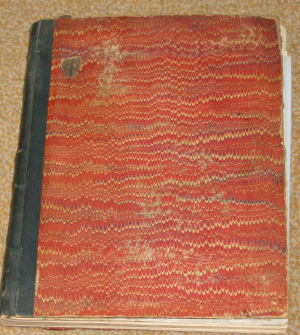 Preliminary Report
Description of Document
A typical card exercise book of the period used to record information relating to the Tring Show in 1883 with additional items up to 1885. It consists of the following sections (written on the right-hand page unless stated otherwise)
Results of competitions in 1883
Each page is headed by the nature of the competition cut from the printed program.

Below this are the list of entries, and below that again there is a list of winners (1st, 2nd, 3rd)

It is possible that the competition winners were published in a local paper - but even if this happened this note book provides additional information on the non-successful competitors. For some competitions this links farm workers (ploughmen, shepherds, etc) to their employers - information which is other not available.
Accounts for 1883 show
Includes payments for materials used in the show, advertising in several papers, etc.
Working notes and minutes
Lists of letters to be written, rough working notes

Minutes of meetings October 12th, 1883, March 7th 1884, June 6th 1884, September 5th 1884, September 19th 1884

Apart from the last two minutes - which relate to the appointment of judges - the minutes say very little - and all my only be drafts.
Results of Competitions in 1884
As for 1883
Working Notes and minutes
[Working mainly upside down from the back]

Some very rough notes (including pages of long division calculations). Very brief minutes of meeting on Sept 6th 1885 and partial minutes? of meeting on March 30th 1885
Separate Documents
Manuscript accounts for 1883 Show

Manuscript accounts for 1884 Show

Invoice from Hertfordshire Mercury 1884

Invoice from Bucks Herald, 1885

| | | |
| --- | --- | --- |
| | | |
| Page created | | December 2010 |