John Amsden was born on 27th September 1817 in Tring, the son of Thomas and Arnold Amsden
| | | | | | | |
| --- | --- | --- | --- | --- | --- | --- |
| AMSDEN, John | Head | Married | M | 34 | Brewer & Plait Dealer | Tring, Hertfordshire |
| AMSDEN, Jane | Wife | Married | F | 32 | Domestic | Thame, Oxfordshire |
| AMSDEN, John | Son | | M | 10 | Scholar | Tring, Hertfordshire |
| AMSDEN, Sarah Jane | Daughter | | F | 7 | Scholar | Buckland, Buckinghamshire |
| AMSDEN, Helen Arnold | Daughter | | F | 4 | | Tring, Hertfordshire |
| AMSDEN, Frederick | Son | | M | 3 | | Tring, Hertfordshire |
| AMSDEN, Hephzibah | Daughter | | F | 0 (11 MOS) | | Tring, Hertfordshire |
The 1851 Hertfordshire Post Office Directory records John Amsden as a beer retailer, shopkeeper, & plait & chip manufacturer in Frogmore Street. The 1855 Directory records him as a beer retailer & plait dealer, Frogmore Street -(but the information was probably collected in the latter part of 1854)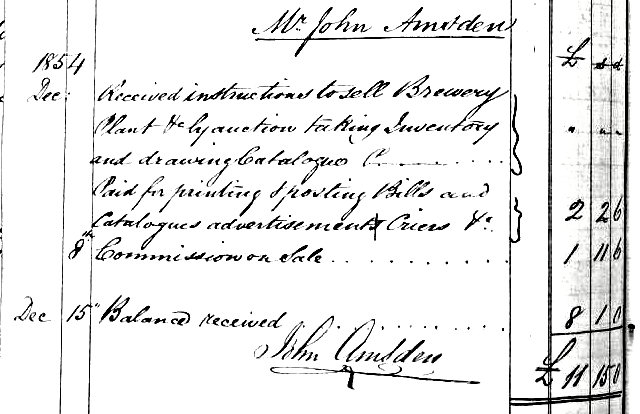 The Bucks Herald of 31st March 1855 reported the following case, heard at the Aylesbury County Court on March 29 before J. W. Wing, Esq. Fleet v. Amsden, Tring. - Claim of £12 10s., for rent. Defendant had paid £7 into court and disputed the rest, on the ground that plaintiff had pulled down a stable during his tenancy, but on being cross-examined, admitted that he afterwards consented to it, if the plaintiff put up another. - Verdict for the plaintiff; payment forthwith.

Executors of James Grout's Account - Folio 276 - receipts
[This probably refers to James Amsden - see The Black Poplars of the Wilstone Area.]
The Bucks Herald of 25th December, 1858, includes an account relating to the theft of coal from the wharf at Tring Station, belonging to John Amsden, of Tring. John Amsden and Henry Rolfe his employee, gave evidence, Henry saying "My master being the sole agent for Greesley Wood Coal." The full trial was reported in a number of papers including the Hertford Mercury of 8th January, 1859.
1861 Census - East Park Street
| | | | | | | | |
| --- | --- | --- | --- | --- | --- | --- | --- |
| AMSDEN, John | Head | Married | M | 43 | 1818 | Plait And Coal Merchant | Tring, Hertfordshire |
| AMSDEN, Jane | Wife | Married | F | 41 | 1820 | | Thame, Oxfordshire |
| AMSDEN, John | Son | Unmarried | M | 19 | 1842 | | Tring, Hertfordshire |
| AMSDEN, Sarah C | Daughter | Unmarried | F | 17 | 1844 | | Buckland, Buckinghamshire |
| AMSDEN, Ellen | Daughter | | F | 14 | 1847 | | Tring, Hertfordshire |
| AMSDEN, Frederick | Son | | M | 10 | 1851 | Scholar | Tring, Hertfordshire |
| AMSDEN, Hephzibah | Daughter | | F | 10 | 1851 | Scholar | Tring, Hertfordshire |
| AMSDEN, Emily | Daughter | | F | 8 | 1853 | Scholar | Tring, Hertfordshire |
| AMSDEN, Albert | Son | | M | 7 | 1854 | Scholar | Tring, Hertfordshire |
| AMSDEN, Oliver | Son | | M | 4 | 1857 | Scholar | Tring, Hertfordshire |
| AMSDEN, Gertrude | Daughter | | F | 2 | 1859 | | Tring, Hertfordshire |
1866 Directory: John Amsden, coal merchant, Park Street
1871 Census - Coal Merchant, Park Street
1881 Census - Coal Merchant, Park Street
1882 and 1886 Directory - John Amsden, Coal Merchant & rate collector, 3 Park Street
1889 - John Amsden died aged 72
1890 Oliver & Edward Amsden were coal merchants at 3 Park Street