Unfortunately Ledge B appears not to have survived
---
Mar 10 Making Lighting Rate £1 1s 0d
Collecting money for paying for the gas street lights

Herts Mercury 7th September 1850.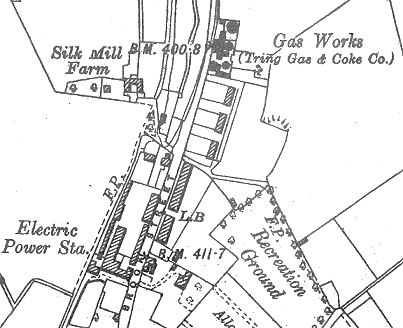 Ordnance Survey Map c 1930
showing Gas Works and former Silk Mill (Electric Power Station)
---
Apr 16 Making Drawings for proposed alteration in premises in Frogmore St. late Grace. Paid for printing bills advertising for Tender & other matters herein £2 2s 0d
Unfortunately no Grace in Frogmore Street in 1841 and 1851 census. Property not identified
---
June 5 Making Set of Drawings for Church a Building and Boundary walls of proposed Cemetery at Tring with Specifications & Estimates £2 12s 6d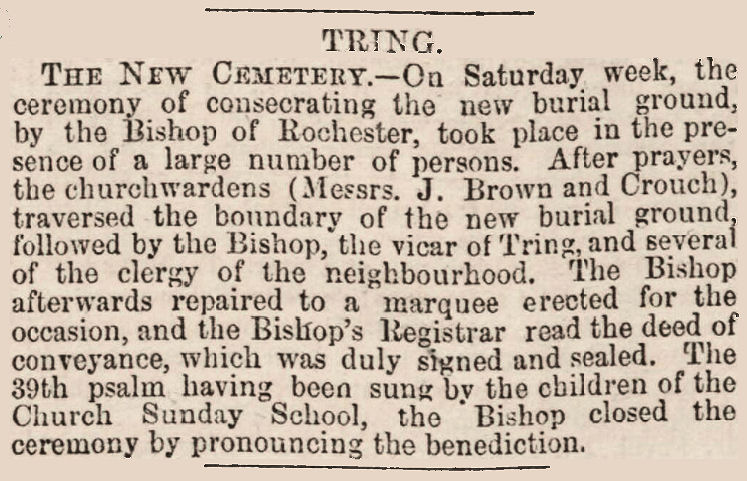 Herts Mercury 20th August 1853
The cemetery was used for new burials until the 1880s and most of the stones were cleared in 1973 to make a public open space.

The map is from an Ordnance Survey map circa 1930.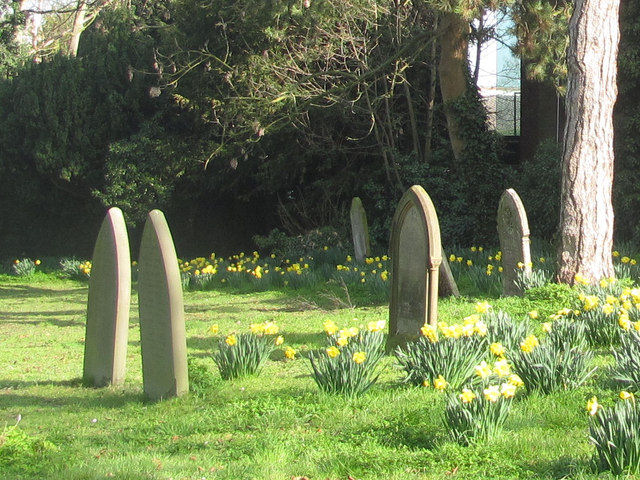 Click on picture for more pictures (and descriptions) on the cemetery in 2013
---
1852 Mar 19 Made 2 plans on lease and counterpart of Frogmore Street property let to Mr. John Brown --- paid by John Brown
John Brown was William Brown's brother, and also (at least in 1853) churchwarden. The property may be the one referred to in April 1851.
---
Novr 18 Drawing up Catalogue of Material and Trees upon the Property purchased of Mr Norman. Selling the same by Auction. Printing & Posting Bills £1 5s 0d
Could this be the elderly George Norman, a retired victualler, who in 1851 was living in the High Street (North side between Frogmore Street and the Old Market House - so somewhere near the Bell Inn. He died and was buried in Tring in 1853 aged 81. And was he related to William Norman, who was publican at the Bell in 1846. The Bell would undoubtedly be at the front of a long narrow plot - and this could have included the land to be used for the Old Cemetery. In the context of the account book, it seems extremely likely that the property was the site of the proposed cemetery, which contained many mature trees which needed to be cleared.
---
Dec 28 Balance paid by Cheque ... £7 15 0s Total £9 0s 0s
---
---
1854 Trustees of the Tring Poors Land
October Making Sketch of homestead & Cottages proposed to be erected in part on the Poors Land by the next Lessee and drawing Conditions of letting and fair copy of same & plan. £2 12s 6d
Paid printing Bill notice of Meeting. 4s 0d
[This undoubtedly refers to Tring Charities - but I have not looked into it]
| | | |
| --- | --- | --- |
| | | |
| September 2013 | | Page Created |