Bill Sayer (billsayer @t msn.com) from Seattle, WA, USA, says: My great grandmother, Sophia Ambridge, emigrated from St. Albans to Bytown, Canada (now Ottawa) at the age of 14 with her parents. She was born July 14,1845. She died on Jan 1,1939 in Canada. She had a younger sister Amy born about 1849, who listed in the 1871 Canadian census as a tailoress. This census also records their religion as Church of England. The family may have bakers although this is only an educated guess.

I am trying to find her parents or any records of her family in England. I was hoping that the 1851 Census would have some record but I cannot access the index.
There is no-one called Ambridge listed for the St Albans in the 1851 census, or the Pigot's Directory for 1839, the Poll Book for St Albans for 1847 or the Post Office Directories for 1850, 1855 or 1862.
A search of familysearch and the British VRI showed that the surname Ambridge occurred in the 19th century in the parishes of Hatfield, Ridge, Shenley and Watford - all of which share boundaries with the parishes of St Peters and St Stephens, St Albans. Others occurred in Bushey and Rickmansworth, which share a boundary with Watford.
It is therefore clear that the surname occurs in the general area - and your next step (bearing in mind the negative results for St Albans) must be to purchase Sophia Ambridge's birth certificate. This will identify her parents - and give an address and occupation. I did a quick check on the Rootsweb Free BMD site and while the incomplete index does not include any Sophia Ambridge there were two references to Amy Ambridge:
In the March 1846 quarter an Amy Ambridge married in the St Albans registration area (ref St Albans 6 531) and while she is not your Amy the given name is uncommon and she may well turn out to be an aunt or a cousin with links to St Albans area.

In the March 1849 quarter an Amy Ambridge was born in the Shoreditch (London/Middlesex) registration area (ref Shoreditch 2 469). This would seem to be your Amy - and the family would appear not to be living in St Albans in 1849 - which could explain why neither Sophia or Amy are listed in the St Albans 1851 census.
Before you order any certificates you may find it useful to look for other Ambridge entries on the Free BMD database.
May 2002
Gina Ambridge (holiday @t unclefranks.freeserve.co.uk) writes: I have just been given 25 years of research into Ambridges Worldwide. In this treasure trove there is reference to Sophia Ambridge b 12 7 1842 Newington Surrey, GRO Sept 1/4 1842 Newington IV 313 Sophia's family emigrated to Billings Bridge [Ottawa, Canada] in 1858. Sophia's Grandparents Thomas Ambridge & Sophia Ambridge nee Swainson were buried at St Michael's, St Albans 31 10 1835 and 12 08 1836 respectively.

Sophia's Parents were Thomas Ambridge b 1815 Houghton Conquest, BDF and Elizabeth Ann Hitchcock B 1812/13, MDX. They had the following children:-

Frank b 1840 Occupation Baker
Sophia b 1842
John b 1845
Alfred b 1847
Amy b 1849
George b 1850
Thomas d 13 06 1929 Occupation Carpenter
Mary Ann
William

In 1842 when Sophia was born the family were living at 18 Charles Street, New Kent Road. In 1842 Thomas was a policeman and later a baker.

Hope this helps. Gina
Looks very good - Thanks for your help.
October 2014 - August 2015
Valerie Eccles (vlynnee @t hotmail.com) of Ottawa, ON, Canada writes: I believe the Thomas Ambridge listed in your article is my mother's great-grandfather. His parents were Thomas Ambridge and Elizabeth Ann (Harrison) nee Hitchcock. The family did immigrate to Billings Bridge (Ottawa) Ontario in 1858 but Elizabeth was institutionalized in the Toronto Insane Asylum in November 1859. It was possibly out of family shame that we were given the misinformation. Her grave in Canada says Harrison So perhaps they trying to hide the family's identity. [Two messages combined with initially incorrect information removed.
Thank you for your correction. Clearly part of the problem could be that family traditions tend to bury unfortunate episodes, and the fact that Elizabeth ended up in an insane asylum may well have caused a hole in the family traditions, which led to misunderstandings when you tried to reconstruct your family tree.
I have a special interest in mental health and I suspect that the key to the problem relates to the fact that the family emigrated from Newington (a busy urban area on what was the outskirts of London) to Billings Bridge, Ontario, in 1858 and Elizabeth had been institutionalised by 1859. It is worth looking at Elizabeth's background:
A search (on familysearch) for the children of Harrison Hitchcock shows that Harrison and his wife Ann had a number of children born at Bow Brickhill, Bucks between 1805 and 1811 with Elizabeth Ann Hitchcock being born on 30th August 1813 and christened at St Luke, Old Street, Finsbury on the following Christmas Day. It seems likely that the eldest son William (christened 1805) may have adopted the name William Harris Hitchcock later in life (although I haven't checked this out).

A online search (on FreeBMD) reveals that Thomas Ambridge married Elizabeth Ann Hitchcock in the first quarter on 1838, in the St Luke's registration area.

Checking the census returns shows that Thomas was not at home in 1841 but Elizabeth (25[-29], not born Surrey) and Frances (1, born Surrey) lwere iving in Charles Street, Newington, Finsbury. The property was multiply occupied and may have been involved several families each living in a single room.

In the 1851 census Thomas "Annbridge" (36, Master Baker, born Houghton Conquest, Beds) was living in Radnor Street, St Luke's, Middlesex with wife Elizabeth (38), children (born in various locations) Frank (11), Sophia (9), John (6), Alfred (3), Amy (1) and George (0). Also in the house was Elizabeth's father Harrison Hitchcock (58, Widower, Millwright, born Leighton [Buzzard], Beds).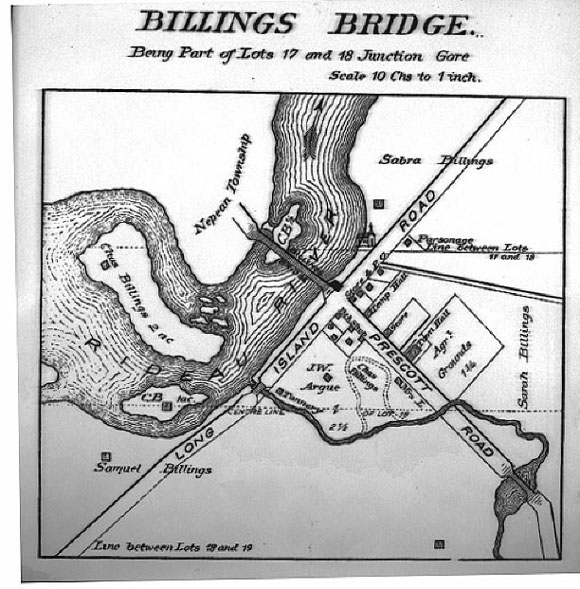 While her husband, Thomas (born in rural Bedfordshire) and Harrison Hitchcock (born in rural Buckinghamshire) would both have some experience of country living before they moved to London, Elizabeth would have spent all her life prior to 1858 in cramped urban conditions, with many long-standing social contacts, and with easy access to busy urban markets and many different pubs. The map of Billings Bridge in 1864 shows a totally different environment. There is a church, a single store, a temperance hall, and about 20 houses, each with their own garden. She would have found the change a major cultural shock. For instance she would almost certainly have no experience of a garden where you could grow food, run chickens, etc. In addition I suspect the whole family would have been mentally unprepared for the severity of the winters.
I am sure that a number of settlers wives failed to adjust and yearned to go back to England with the children. However in Victorian times many wives were little more that the husband's slave. Thomas would have decided he wanted take the family to Canada, and he may well have seen the opportunities and wanted to stay. She would have had no say in the matter - and if she continued to vigorously objected to staying she would be seen as "a problem."
A few years ago I researched an admittedly very different case where a wife end up in in long stay institution. I wrote:
Your comment on the military records support the possibility that William Fortnum's temper was a factor of domestic life. I am sure that a hundred years ago there were still plenty of husbands who believed the old saying "A wife, a dog, and a walnut tree, the more you beat them the better they be." It is quite possible that a highly stressed wife might snap under unreasonable physical or verbal domestic violence. And who would be blamed for her resulting behaviour ...

I am sure that there would have been doctors who would certify a wife because her husband said she had "gone mad" and had, for example, hit him with a rolling pin. Any devoted mother who wanted to shield her children from her husband's temper and ended up in an asylum - with the children left in the bullying husband's care - may well have became so disturbed that she could not be released from the asylum.
While the circumstances are clearly very different, Elizabeth may well have found herself in an asylum because she found life in Billings Bridge very difficult and forcibly disagreed with her husband - and her "mental illness" was no more than extreme frustration over the situation she found herself in. It is relevant that when England started to close some of their long term psychiatric hospitals in the 1980s it was found that some of the older women had been first admitted in their teens because they had become pregnant out of wedlock and had been incarcerated to avoid embarrassing the family. They should never (by today's standards) been admitted in the first place and their "mental illness" was almost certainly because they had been locked away from the community for so long. I have no reason to think Victorian Asylums were any better. If the Toronto Insane Asylum patient records still exist for the period they may well throw some light on what caused her to be admitted.
You don't say exactly what was on Elizabeth's grave stone but it is not uncommon for the given names of a grave stone to be in some way different to the baptised name. Unless there was an attempt to mislead you were (and still are) allowed to be called what you like and some people did not like the names given to them by their parents. One of my relatives had her given names recorded differently on he birth, marriage and death certificates
On English graves at the time (and I suspect in Canada) it was very unusual for the wife's maiden name to be recorded directly on the stone - which would be taken as a public admission of the "shameful fact" that the couple were unmarried. The only exception was when her father was something important, when the inscription would read something like "In memory of [given names], the daughter of [father's full name] ..." If the grave stone says something like "In memory of Elizabeth Harrison, wife of Thomas Ambridge ..." the word "Harrison" would be a given name she decided to use during her life, in the same way that it seems her eldest brother William decided to take on the given name "Harris" later in life. I suspect that if you check the burial record you will find that Harrison is recorded as a given name.
In England many people who died in an Asylum were buried, without headstones, in the Asylum graveyard, and the very fact that she has not been buried in an unmarked grave means the family still respected her despite her illness.
If you can add to the information given above tell me.