Linda Rogers (lrogers8 @t carolina.rr.com) of USA writes: Having traced back from my grandmother, through b/m/d and census records, we arrive at James Jordan born about 1809 in Chipperfield a master carpenter, and on the 1881 Census where he is now a widow from his second marriage, was shown living at Yew Tree Cottage in Kings Langley with two of his unmarried daughters, Mary and Jane and three year old granddaughter.
| | | | | | | |
| --- | --- | --- | --- | --- | --- | --- |
| James JORDAN | Head | W | Male | 72 | Chipperfield, Herts | Carpenter Master |
| Mary A. JORDAN | Daur | U | Female | 50 | Chipperfield, Herts | |
| Jane JORDAN | Daur | U | Female | 40 | Chipperfield, Herts | Dressmaker |
| Mary E. JORDAN | Gnd Daur | | Female | 3 | Brixton, Surrey | |
I would like to know if you have any history of this cottage, i.e. who owned it and when was it built. I'm trying to explore if there is any truth to a family story of royalty having owned this cottage at one time and also a royal estate in Chipperfield. Any help would be truly appreciated.

While the 1881 census describes James Jordan's address as Kings Langley, this is very misleading as he was living in Chipperfield, as many of his immediate neighbours are at addresses – such as Pale Farm and the Two Brewers public house – which are in the centre of the village. It is possible that Yew Tree Cottage was associated with Pale Farm, and as James was born in Chipperfield he may have lived in the same house all his life. (You may be able to check this by looking at the microfilms of the 1841-1871 census returns at your nearest LDS family History Centre and checking whether he was living close to Pale Farm - for the address of the centre see familysearch.)
A check of the 1882 Kelly's Directory entry for Chipperfield lists James Jordon as a builder, and James Jordon junior as a beer retailer. The 1866 Post Office Directory lists Chipperfield under Kings Langley and shows James Jordan as a builder and a Mrs Mary Jordon as a grocer. The 1851 Post Office Directory lists Charles Jordon as a beer retailer, James Jordon as a butcher, and another James Jordon as a carpenter.
A check of Cussans' History of Hertfordshire (1879) reports that the churchyard contains a memorial "Mary Anne, wife of James Jordan, Senr of Chipperfield, departed this life November 9th, 1871" and says "Close by are several wooden memorials to other members of the Jordon Family.". While the stone memorial may still be there, the wooden memorials will have long gone.
A check of the books Kings Langley and A Hertfordshire Valley, both by Scott Hastie, shows no references to the Jordon family or Yew Tree Cottage, but both mention Pale Farm – and of course the medieval palace that used to stand at Kings Langley in the 13th and 14th centuries.
There is no reason to expect any particular link between the Yew Tree Cottage or Pale Farm and the Royal Palace at Kings Langley – apart from the fact that the ground on which they were later built may have been owned by royalty – but this is nothing special as much of England has been owned by royalty and nobility at one time or another.
However the is a particular historical connection between Pale Farm and the USA which is mentioned in the booklet The Carters of Kings Langley, which describes the Chipperfield ancestors of former President Jimmy Carter. A brief quote, and a picture, would seem appropriate.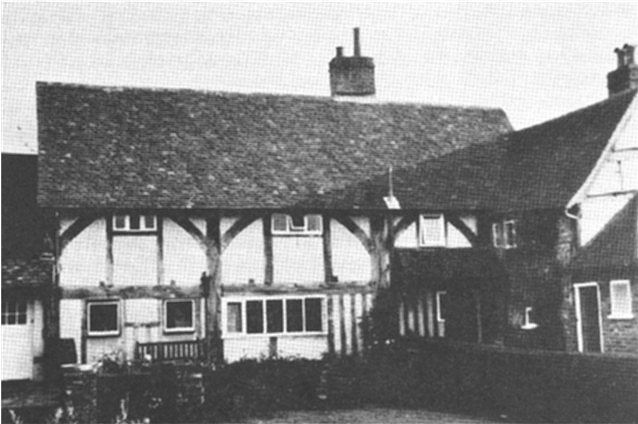 Pale Farm – The Tudor farmhouse of Thomas Carter of Mill
Thomas Carter of Mill enjoyed what was certainly the most impressive farmhouse belonging to any member of the family. This was at Pale Farm, still in excellent condition today in Chipperfield Street. It is obviously sixteenth century with a characteristic overhanging upper story with a tile roof. Near the centre is a squared chimney which demonstrates the wealth of the family, as chimneys of this nature were expensive and only the rich could afford them.
Old buildings in England are listed if they have recognized historical value, and Pale Farm is listed as Grade II* as circa 1500 (reputedly built by John Carter), and is described as being on the East side of "The Street". However you will be interested to know that "Yew Trees" is also listed as Grade II (same map reference but on the West side of the street). It is listed as 16th century or earlier, the lower northern part being 17th century. As it is still standing it could be worth your while to write to the occupier – who may well be able to tell you something of the history of the house. You may also find it helpful to contact Kings Langley Local History & Museum Society.