The bulky book was obviously designed to appeal to those who liked to see the names of their ancestors in print and in addition to the histories of the more important houses, and the parish churches, it contains details of a large number of memorial inscriptions from inside churches, and in some cases the more impressive memorials in the churchyard. The following is one of the more extensive examples recording an inscription in St Andrew's, Hertford.
Mr Matthew Campbell, many years a resident of this town, departed this life 6th November, 1833, aged 81 years.
Mrs Elizabeth Campbell, wife of Mr Matthew Campbell, departed this life 14th May, 1829, aged 61.
Elizabeth, daughter of Matthew and Elizabeth Campbell, died 5th November, 1793, aged 2 years and 4 months: also John Campbell, died 3rd September, 1795, aged 9 weeks.
James Campbell died 2nd June, 1802, aged 5 years; also Alexander Campbell, died February, 1808, aged 18 months.
Capt. Matthew Campbell, of the H. E. I. Co.'s Horse Artillery, son of Matthew and Elizabeth Campbell, who died on his passage from Madras 4th December, 1821, aged 29.
Ann, eldest daughter of Matthew and Elizabeth Campbell, departed this life 30th April, 1833, aged 43 years.
For more information on the above family see Campbell

Hatfield Tradesmen's Tokens
The book also contains lists of names, such as the Rectors of Wallington 1307-1870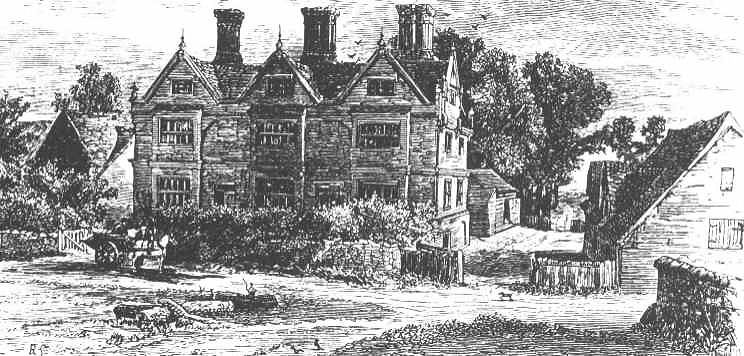 Water End Farm, Sandridge, birth place of Sarah, Duchess of Marlborough.
For further examples of information from the book see
The Manor of Ponsbourne, Hatfield
GORSUCH, Walkern, early 17th century
Locating Books
At the time this page was last updated second hand copies of the 1972 reprint could be ordered online
, with specially bound copies of the first edition costing up to £2000.
~~~~~~~~~~~~~~~~~~~~~~~~~~~~~~~~~~
A Professional Hertfordshire Tramp
John Edwin Cussans
Historian of Hertfordshire
Edited by Audrey Deacon & Peter Walne
Published 1987 (ISBN 0 9510728 2X)
HALS has J. E. Cussans own grangerised copy of his History of Hertfordshire. It contains many original documents such as title feeds, will, sales catalogues, turnpike tickets, press cuttings, etc., on interleaved pages in the correct logical place, In addition it contains many handwritten notes - and this volume reprints a selection of these, together with supporting notes. Many give his personal observations about people.
For example, under Abbots Langley the book records the memorial inscription to John Dixon of Cecil Lodge, who died on 28th September, 1819, aged 56, and his wife, Susanna, who died 21 February, 1820, aged 46. The added note reads:
Mr Dixon and his wife were playing whist against Dr Harness and his wife ... On looking at his hand Mr Dixon said to his partner, "We must win the game my dear, for I have twelve trumps in my own hand". "And I have the other", she said. At that moment the Archangel Gabriel played his trump, and won the game; for Dixon dropped his cards, and fell back in his chair, dead.

Locating Books


At the time this page was last updated second hand copies could be ordered online

.