Margaret Brooks (meg.ron @t virgin.net) of Enfield, Middlesex, says My husband's grandmother was Annie Serna Jane Teale. Her father was Frank Teale a wealthy architect. When we visited St Johns church there was a plaque up on the wall to say he had donated money for the church. I have been trying to find out more about him but have had no luck. When I looked on the 1881 census it showed he had six children but as I am a novice I am not getting very far.
In order to advise you it is appropriate to look at 1881 census returns for Ware Road, Hertford St John:
| | | | | | |
| --- | --- | --- | --- | --- | --- |
| Frank TEALE | Head | Married | 34 | Stanstead, Herts | Architect & Surveyor |
| Ann C. Or E. TEALE | Wife | Married | 30 | Bognor, Sussex | |
| Annie S.J. TEALE | Daur | | 11 | Bognor, Sussex | Scholar |
| Maria C. Or E. TEALE | Daur | | 9 | Bognor, Sussex | Scholar |
| Frank H. TEALE | Son | | 7 | Bognor, Sussex | Scholar |
| Thomas S. TEALE | Son | | 5 | Deptford, Kent | Scholar |
| William H. TEALE | Son | | 3 | Hertford, Herts | |
| Lottie C. Or E. TEALE | Daur | | 1 | Hertford, Herts | |
| James MILLS | Father In Law | Widower | 68 | Goodwood, Sussex | Retired Farmer |
| Ellen FITZJOHN | Serv | Unmarried | 16 | Hertingfordbury, Herts | Domestic Serv |
| Mary A. STEADMAN | Sister In Law | Unmarried | 65 | City, Middlesex | Income Derivd From Interest Of Money |
| Ellen HART | Serv | | 18 | Hertingfordbury, Herts | General Serv (Domestic) |
The census returns show that Annie was born at Bognor, the name of her parents, and her age, so you have sufficient information to purchase her birth certificate, which will give you the address of where she was born (most likely the family home) and the maiden name of her mother.
Bearing in mind the relative ages of Annie and her parents it seems likely that they were married in about 1869 - probably at Bognor - so you have enough information to purchase their marriage certificate - which will provide more information about their fathers - although it seems likely from the census return that James Mills was one of your husband's great great grandfathers, while James Mills' wife possibly had the maiden name Steadman.
You could also look in the 1881 census for possible relatives, for instance there was a 30 years old W. Teale at 42 Ham Park Road, West Ham, Essex who was born at Stanstead, Herts, who may be Frank's brother. There may well be others, possibly including Frank's parents. A search of the 1901 census online may also produce some additional information.
Trade directories are another source of information and the 1890 Kelly's directory for Hertfordshire shows that Frank Teale was a surveyor at 209 Ware Road, Hertford.
When you are ready to explore further I am sure you will find it useful to study the help files on this site.
February, 2004
Margaret Brooks (meg.ron @t virgin.net) has reported that her researches have gone well. She writes: I thought I would just let you know that I have traced Frank Teale's family back to his great great grandfather Joseph. As I wrote to you and said I was just starting out and never really knew how to go about searching for my husband's family. I contacted a very helpful chap on Genes Connected and he gave me lots of information. I looked on a message site one evening about the great bed of Ware which William Henry bought for his exhibition in 1850. I sent him an e mail back and from that I found out he was a descendant of my husbands ggg grandfather's brother. His wife put me in touch with another brothers descendant who has sent me the whole family tree from1770 with photos of William Henry Teale and his wife Jane. Thank you again for your help in putting me on the right tract.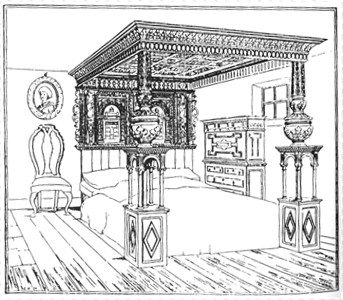 The Great Bed of Ware
10 feet 7 inches wide, 10 feet 10 inches long, 8 feet 9 inches wide
From John Lucas's book Hertfordshire Curiosities
If you can add to the information given above tell me.