Lorna Athey (invalid email address supplied) of Suffolk wrote: I have recently come across an ancestor on the 1891 census listed as publican of the Bull Inn Watton, I have been unable to locate this Pub.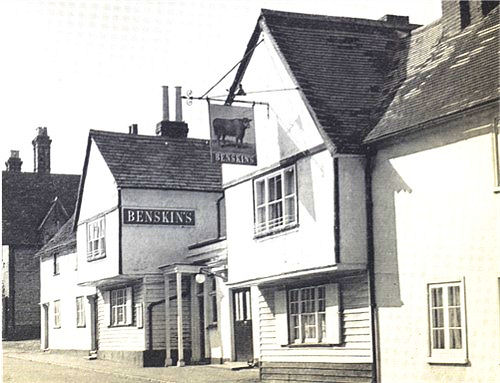 The Bull, in the High Street, is listed and pictured (above) in Hertfordshire Inns. The earliest reference is in 1704, when it was mortgaged by Philip Boteler, lord of the manor of Watton. In 1800 it was owned by Paul Benfield (who went bankrupt), the licensee being John Wilshere.It was owned by Benjamin Young, brewer of Hertford, by 1858.
Trade directories list the following landlords: John Lankford (1882, 1886), Jerry Moye (1890), Sydney Albert Adams (1902, 1912).A quick check of the index suggests that neither Moye or Adam were at the Bull in the 1901 census (you will need to buy the page to see who was).
The upper floor of the Inn was damaged by fire in 1990, but has been restored and reopened in 1992.
If you can add to the information given above tell me.