Jacqui Minns (jminns @t acay.com.au) of Sydney, Australia, writes My Husband's Gt Gt Grandfather Rowland Minns was a Railway Worker in1861 and most of Rowland and Mary Ann's children were born in the "Station House" at Hitchin. Do you know if this Station House still exists ?


Hitchin Station in the 1870s
I have never visited the railway station at Hitchin, but it was rebuilt in 1910 and I don't know if any old railway buildings remain in its vicinity, but perhaps other readers of this page can help.
However some information on the railway at Hitchin might give you some useful background..The railway line through Hitchin was the Great Northern Railway from Kings Cross and the station opened in 1850. Between 1857 and 1869 the Midland railway also had a line into Hitchin station, so Rowland Minns could have worked for either company. A look at the 1881 census shows the family living at 10 Harbard Street, West Derby, Lancashire:
| | | | | | | |
| --- | --- | --- | --- | --- | --- | --- |
| Name | Relation | Marital Status | Gender | Age | Birthplace | Occupation |
| Rowland MINNS | Head | M | Male | 40 | Sherlarme, York | Railway Engine Driver |
| Mary A. MINNS | Wife | M | Female | 41 | Hitchen, Hereford [sic] | |
| Walter MINNS | Son | U | Male | 19 | Hitchen, Hereford [sic] | Railway Engine Driver |
| Robert MINNS | Son | U | Male | 18 | Hitchen, Hereford [sic] | Railway Stoker |
| Henry H. MINNS | Son | U | Male | 12 | Fulham, Middlesex | Scholar |
| John T. MINNS | Son | U | Male | 3 | Helifields, York | Scholar |
| Thomas SMITH | Boarder | U | Male | 19 | Witchurch, Cheshire | GenLaborer |
| Annie MINNS | Daur | | Female | 9 | Garston Lipool, Lancashire | Scholar |
The fact that Rowland Minns was born in Yorkshire could support the idea that he worked for the Great Northern Railway and lived in Hitchin in the early 1860's. However if Hitchin was like many other railway stations the station master would have lived in the "Station House" while other railway workers would have lived in cottages.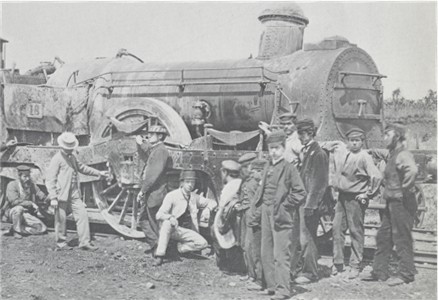 A damaged railway engine in the Hitchin Sheds in 1866 (detail)
Rowland Minns would almost certainly have known some of the workmen
Pictures and information on the railway came from the book Old Hitchin
April, 2005
Further to the above answer Jacqui Minns (jminns @t acay.com.au) asked Can you point me to the 1851 or 1861 census records for Rowland & Mary Ann Minns - possibly the Station House, Hitchin?
You will need to do more work to find out where Rowland and Mary Ann Minns were living before it is worth looking at the 1861 census for Hitchin. As I am sure you have already found out from familysearch, Rowland Minns married Mary Ann Dear on 23rd September 1861 at the Old Church, St Pancras, London, which suggests they were not living in Hitchin at the time of the 1861 census. You will need to get a copy of the certificate which will not only tell you their addresses, but also their occupations and the names of their fathers. Because of their age Rowland was possibly in a comparatively junior railway post, while Mary Ann may well have been in service in London. You may be able to locate them in the London 1861 census once you know the addresses on the marriage certificate.
Walter's birth certificate will give you the address they were living at in Hitchin in 1862 - but this is unlikely to be the address either of them were at before they were married, and so not very helpful for the 1861 census. The 1881 census, quoted above, shows they were almost certainly not in Hertfordshire at the time of the 1871 census.
As for the 1851 census, both would have been children living with their parents, and as Rowland was born in Yorkshire there is no reason why he should have been in Hertfordshire, much less Hitchin, at that time. Mary Ann was born in Hitchin in about 1840 - so is very likely to be listed in the 1841 census at the address on the certificate, and could still be in Hitchin in 1851. Of course she would be listed under her maiden name of Dear/Deer and not Minns!
As both Rowland Minns and Mary Ann Dear were born after 1837 you are in a position to purchase their birth certificates - and it is worth checking familysearch to see if their baptisms are recorded. If so, you can then use the batch number facility to search for any siblings.
September, 2005
Jacqui Minns (jminns @t acay.com.au) provided some additional information: Rowland was born in 1839 in Yorks but his younger sister Alice - was born in 1852 at the "Railway Station Hitchin" - this is listed as their residence also. The father Robert's occupation is Engine Driver at this point in time. Rowland's eldest son Walter was born in Dacre Road, Hitchin in 1861. Rowland was a railway Fireman at the time.
David James Bourne (davidjbourne @t hotmail.co.uk) writes: We live in Midland cottages (see picture), which were built in 18?? for the railway workers of this company. We understand that the semi- detached houses previously known as Midland villas (1-6) were for the senior ranked employees. Our cottages (7-12) are terraces and were for the more lowly occupations. As the station was mainly LNER, I do not know if the Midland actually had a station master, but if so, I guess he lived at No 1. I can supply a picture if wished. The houses have been much changed in recent years, but the character remains. We front onto a park, Ransoms Rec. There is also a set of houses much nearer to the station, which belonged to the LNER. The ''Station house" is probably "Northbank" (a detached house) There is also the "Bungalow" opposite.
He later provided some pictures of some of the Great Northern Railway properties.
Jacqui Minns (jminns @t acay.com.au) was delighted and wrote: I am hoping to visit the UK again next year and we may even be able to visit and take our own photos. When I posted this mail I was researching based on actual birth certificates. I have since obtained copies of the census records of 1851 and 1861. 1851 shows Robert living at 52 Back Street in Hitchin. 1861 shows Robert as living at 98 Great Northern Railway Cottages. So we know the Railway company from these.

Rowland - son of Robert - is the one who's children are listed as being born at "The Station House" on their birth certificates. And Rowland is classed as Station Master - this is circa 1863, He is a fireman in the 1861 census so who knows...
If you can add to the information given above tell me.