Noel Pearman (anjppjpp @t cpinternet.com) wondered why the Bennington pub formerly known as the Cricketers was some was some distance from the modern cricket field.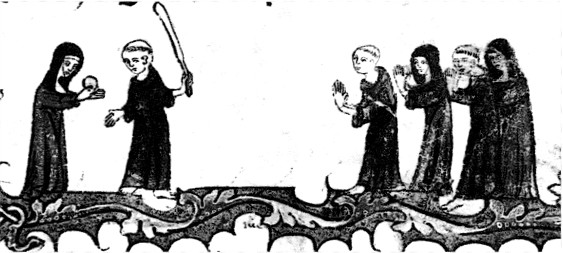 14th century "cricket" from Benny Green's A History of Cricket
The game of cricket is known to have been played in the days of Elizabeth I, and cricket-like games are older than that, although evidence of how they were played is lacking. The first known "Hertfordshire" cricket team match was when a joint Essex/Hertfordshire side played a game against a London team in 1732.
In fact the 1890 Kelly's directory lists four public houses in Hertfordshire as "Cricketers":
Additional information comes from Simons Cricket in Hertfordshire, Jolliffe & Jones Hertfordshire Inns & Public Houses and my own Bernard Heath research notes.
April 2017
Noeleen Sutton writes: I found your site via Google after I could not read an address in a census. It turned out to be 'The Cricketers' in Bennington. In 1851 and 1861 census Frederick Parkins was the Victualler and a Shoemaker with his wife Sarah. He was just a Shoemaker in 1841 census. In 1861 it is listed as Cricketers Public House, Bennington Road. By 1871 and 1881 census he is Publican and Shoemaker at the Green Dragon in Waltham which his wife Sarah was head of as a Widow in 1891 census. I hope this is of interest to you and I loved the addition of a shoemakers occupation plus I enjoyed reading about Cricketters Pubs on your site, something unknown to me in NZ.
A few bits of news on Fred Parkins and the Bennington pub can be gleaned from the British Newspaper Archive:
Bennington: Cricket: The Herts Mercury of 25 May 1861 includes a detailed report of a cricket match played between the north side and the south side of the village and F. Parkins was the last player to bat for the North Side scoring 1 run (not out) in the first innings and scored 1 run (caught and bowled) in the second.

Unjust Measures: Frederick Parkins, publican, Bennington, was charged by Supt. Hawkes with having two unjust pint measures. Fined 1s and costs. Hertford Express, 15 September, 1866

Frederick Parkins, landlord the Cricketers public house at Bennington, was charged by police-constable William Dunn with allowing disorderly conduct to take place in his house about two o'clock on the morning of Sunday Feb. 2. — Fined £2, including costs. Herts Mercury, 7 March, 1868