Vivian Simmonds
(
vivian_simmonds @t hotmail.co.uk
) of Old Portsmouth, Hampshire, writes:
I have the birth certificate for Henry Walker Simmonds, the illegitimate son of Harriot Simmonds and Andrew Walker. Harriot's address is shown as Boot Yard, Watford but I cannot find her or Henry on the 1851 census. Can I find out who was living in Boot Yard at this time? I have found them both on the 1861 census by which time Harriott had married a William Mackpartland (married 1855). This marriage certificate shows Harriot's father as Henry Simmonds. How can I find him and the name of Harriot's mother?
As soon as I got your enquiry I tried a useful trick when looking for someone on Ancestry. I looked for all "Henry" born in "Watford" between 1844 and 1846 on the 1851 census and scanned down the list.
There was Henry Simmons, a "schollar" aged 6, with his sister Hariet (silk throwster aged 11), brother John (agricultural labourer aged 19 and mother Hariet (unmarried charwoman aged 49). They were all born in Watford and lodging with John Birch and his family at Ballards Buildings, Watford.
There is quite a lot of information about Ballards Buildings in Street and Place Names in Watford. They were a row of late 17th century cottages off New Street which were acquired by William John Ballard in about 1846. The account continues:
"In 1851 ... 226 people were crammed into 39 out of the 42 minute buildings which the census described as occupied. Doubtless this figure was low, as at least two of the cottages were euphemistically described as lodging houses. This view is supported by an official of the Local Board of Health when on October 26th 1853 he describes the cottages as having from 300 to 400 occupants. ... At the time of their demolition [in 1926] Ballard's Buildings had become one of the most notorious slums in the town"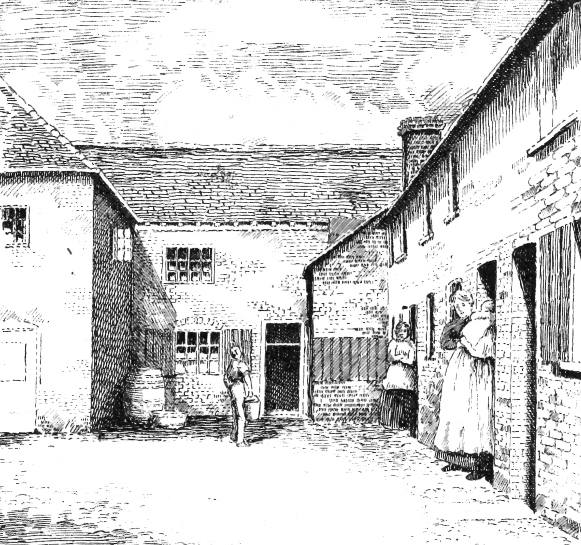 Ballard's Buildings, Watford [Picturesque Hertfordshire]
The 1861 census record you mention show her living in Ballards Buildings and gives her age as 40 - so clearly there must be some uncertainty about her age. (What did the marriage certificate say?) Unfortunately there is no sign of her baptism on either familysearch or the British Vital Records Index and this problem is quite common - see Where is my ancestor's baptism before 1837?
Boot Yard was one of many yards off the High Street, and the 1851 census shows that it contained many poor households, like Ballards Buildings. Such yards often take their name from the public house at the entrance. I don't know whether this was the case with Boot Yard, but at the entrance to the yard the census shows a Thomas Dracott, maltster, - so perhaps he sold beer as well!
More interestingly one of the households in Boot Yard was headed by an Ephriam Hobbs, with wife, three children and two grandsons. One of the grandsons was called Edward Simmons, aged 5. Maybe this was the house where Henry was born - and it could be worth you investigating the family to see if Harriot was related. She might even have been Edward's mother!
July, 2006
Vivian Simmonds writes You have helped me before with the Simmonds family of Watford and I am wondering if you can help again please. I have William Simmonds (Simmons) married to Rachel (surname unknown) with children Henry (born 1782 in Watford, married Martha Doggett 1801 in Watford) and Jno(?) (born 1785 in Watford) - this information obtained from the IGI. I would like to find William and Rachel's marriage (and Rachel's surname) and any other children of this marriage. Also William's birth and his parents. A tall order but I am trying very hard to put together family history books for my children and future generations.
If you want an accurate family history you should check sources and not just rely on indexes. I looked at the entry for Henry and it gives a baptism date and says "of Watford". The instructions say "Family group record submitted by a member of the LDS Church. The record includes the submitter's name and address and names and relationships of family members. The address may be outdated. Some information is estimated. To find the record on the film, you must know the batch and sheet number." The batch and sheet number is also given - so you should be able to access the information through your local LDS Family History Centre (address from familysearch).
It is important to realise that the International Genealogical Index was designed as a record of the ordinances of the Church of Latter Day Saints and contains the family trees of LDS members and also indexes many parish registers. Unless you understand how it works it is very easy to be misled - see The Limitations of the IGI on Family Search.
The entries for Henry are from a submitted family tree and the "of Watford" entry may mean no more than that someone remembered that he had been there at some stage of his life - and almost certainly indicates that whoever drew up the tree did not know where he was born. The marriage location is also uncertain - and other submitted information you have taken from the IGI about his relatives may also be questionable.
However you may be lucky. A number of Mormons left Hertfordshire for America in the 1860s (see FLITTON, Flamstead, To USA in 1868) and could have taken family bibles (or information from family bibles) with them. Because they almost certainly came from non-conformist backgrounds the family records in these bibles may never have been recorded anywhere else. In other cases the person who became a Mormon may have simply recorded the family recollections at the time - which are likely to date back to the later part of the 18th century.
July, 2007
Picture of Ballard's Buildings (see above) added.
If you can add to the information given above tell me.