William PARKER, Town Crier of Stevenage, 1891

August, 2008
Terry Dormer (t.dormer2 @t ntlworld.com) of Plumstead, SE London, writes: My ancestor William Parker was born in Watton in about 1816. He had various jobs between 1851 and 1891 and moved from Back Lane to Middle Row (Stevenage) until in 1891 the census entry shows the family living in High Street and his occupation is Town Crier. (the civil parish on the census is Stevenage, the registration district Hitchin and the sub-registration district is Baldock). Please could you suggest the best way of finding out more about his time as town crier? (e.g. publications or personal visit to ??)
A first check in trade directories and other sources revealed nothing about a town crier in Stevenage - which may just be that the the directory didn't record such detail for smaller towns. I therefore decided to have a wider look at town criers in Hertfordshire to see if that provided some clues.
In medieval times the Town Crier was the person who had the duty of proclaiming official notices, and arranging for the bills to be posted so that those who could read them (a small minority) could do so. Because he might have to proclaim bad news it is said that the post had royal protection to ensure that an annoyed populace did not "shoot the messenger". It would not have been a full time post and might well be combined with other "local government" duties. The post (where it continues) is now a purely ceremonial one.
A search of the 1899 Kelly's Directory for Hertfordshire (which is available online in digital form) is interesting as while "Town Crier" is not indexed as an occupation in the Trade Directory section there are eight towns which are recorded as having a town crier in the County section of the directory. These were:
| | | | | |
| --- | --- | --- | --- | --- |
| Place | | Town Crier | | Occupation |
| Baldock | | Charles Mellum | | Town Crier & Bill Poster |
| Berkhamsted | | David Nash | | Town Crier & Bill Poster |
| Bishops Stortford | | Samuel Warner | | Town Crier & Bill Poster |
| Buntingford | | Joseph May | | Town Crier [General labourer & Bill Poster at Wyddial in 1901 census] |
| Hertford | | Frank Gear | | Town Crier [Bill Poster in 1901 census] |
| Hitchin | | Stephen Joyce | | Town Crier & Bill Poster |
| Royston | | William Stamford | | Town Crier & Bill Poster |
| St Albans | | Charles Pointon | | Town Crier & Bill Poster & Collector of Tolls |
The occupation of "Bill Poster" is listed in the Trade Directory and there are only two Bill Posters listed who are not also listed as Town Criers. One was Charles Hailey, Church Street, Rickmansworth (Rickmansworth being the only Hertfordshire town listed as having a town crier in 1855 and 1866, so may still have had one, although not listed.) and the other was a company - The Watford & District Bill Posting and Advertising Co. Ltd.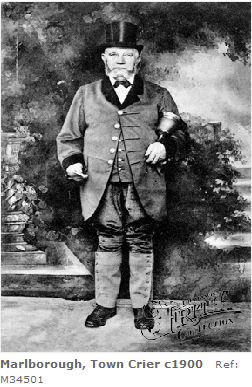 A quick check in online trade directories for the adjacent counties of Bedfordshire and Buckinghamshire for around 1899 show a very similar pattern with at least two thirds of the town criers also being listed as bill posters. Other activities carried out by the town criers included mace bearer, market tolls collector, parish clerk and sexton. It is interesting that the picture of the Marlborough, Wiltshire, town crier in the Francis Frith collection (on the right) was not only the town crier but also a bill poster and the school attendance officer. A google search shows many other individuals throughout England at around the same time (and elsewhere, including one in New Zealand) where the town crier was also a bill poster. I didn't find one posting which commented on how common this combination was, and none of the lists of old occupations I examined indicated a link.
It should, of course, be remembered that in the past there would have been many street traders plying their wares, often with distinctive street cries, and it may well be that a clearly official looking costume came in early. In addition there would have been a commercial need for a vocal "advertising board" to notify the public of forthcoming events, the opening of new businesses, etc., at a time when many people were unable to read. For this reason an "advertising man" might well need a powerful pair of lungs as well as the ability to post bills and be a natural for the post of town crier!
So back to your question: The census shows that William Parker had an interesting career. Over the decades he was an agricultural labourer (1841), a journeyman blacksmith (1851), a jobber (1861), a general labourer & bill sticker (1871), a bill poster (1881) and town crier (1891). Imagine how proud he must have felt at 75, dressed up in in fine cloths, ringing his bell, and calling people to a town meeting or some other event. It may be that he was also town crier in 1881 but had retired as a bill poster by 1891.
So where might you be able to find more information about William Parker and his role as town crier? A good starting point would be Stevenage Museum as they have a large collection of photographs. Even if they do not have a photograph they should be able to advise on where else to try. If the town council records of the period survive they might help and perhaps the council minute book records when the town appointed their town crier. Relevant documents might be with the current council, with HALS, or with the local museum or library. There is a Stevenage Society for Local History (details on the Museum web site). If you know William's date of death there may have been an obituary in a local newspaper.
November 2008
Robert is the Town Crier of Colchester, Essex, and wanted to know about a 19th century town crier - and I was interested to see that James Simpson (Colchester Town Crier between at least 1874 and 1894) was also a Bill Poster. His web site also has a picture of John Everett, who was Colchester Town Crier between at least 1902 and 1914.