Steve Bond (s.j.bond @t city.ac.uk) of Milton Keynes writes: According to his death certificate, Thomas James Pearman (who was my wife's great grandfather) was a police constable in Hemel. He committed suicide on 25 February 1895 in his house in Chapel Street and a coroner's inquest was held the same day. His wife Eliza died two weeks later of influenza and pneumonia. We have been unable to find out anything else, although we do know that at least one of their children was fostered to a family by the name of Hooton, who are believed to have been butchers in Hemel., Any suggestions where else we can look please?
In such cases it can help to have more information that you provided in order to give the best advice so I used the websites FreeBMD, familysearch (free), Historical Directories (free) and Ancestry (for census returns, chargeable from home but free from Hertfordshire Libraries - position in Milton Keynes not known) to fill in some background details, much of which you probably already know.
| | | |
| --- | --- | --- |
| Eliza | Walkern | 1870 |
| Thomas J. | Abbotts Langley | 1873 |
| Charles R. | Abbots Langley | 1874 |
| Alfred W.E | Hemel Hempstead | 1878 |
| Priscilla | Hemel Hempstead | 1879 |
| Frederick | Hemel Hempstead | 1883 |
| Joanna | Hemel Hempstead | 1884 |
| Albert | Hemel Hempstead | 1886 |
| John | Hemel Hempstead | 1887 |
Thomas James Pearman married Eliza Green in 1871 and they were living at Mill Pond Close, Hemel Hempstead in 1881 and 19 Bury Road, Hemel Hempstead in 1891. They had a large family (see list) and the places of birth may indicate Thomas's postings as a police constable.

The Kelly's directory for Hertfordshire for 1895 lists Henry Hooton as a butcher living at 104 High Street while a Mrs Sarah Hooton was a shopkeeper at 2 Bury Hill. The Ancestry web site includes a family tree which includes Henry Hooton, which show him as married to Charlotte Willetts and lists the couple as having only one son, named John Pearman.
In those days most police constables would have been well known in the locality walking their beat. For this reason the suicide of one of them would have been quite an event and I am sure that it would have been reported in the Hemel Hempstead Gazette. The paper is available on microfilm in the Hemel Hempstead Library - although I would suggest you check by phone in case they don't have that year. If he had been bravely killed in the course of his duty there might also be an account of the funeral, and a subscription might have been started for his widow and children. However a suicide would have been seen as a disgrace and while the death would have been newsworthy, there is far less likely to have been a mention of the funeral.
Another factor could be the supposed reason for the suicide - a particularly newsworthy death might be reported in other papers (such as the Herts Advertiser, available in the St Albans Central Library). If he is alleged to have killed himself because he was believed to have been involved in some criminal activities and this came out in the inquest this would also have added to the newsworthiness.
The death of Eliza would not normally attract much attention - possibly only a single line entry in the Births, Marriages and Deaths column - which is the most any member of the working classes would normally get. In view of the fact that she had just been tragically widowed and there were children her death might have attracted a very brief mention - possibly as a paragraph without any conspicuous heading in the general local news column. (If you are not used to reading local papers of this period it is very easy to overlook such minor items.) If Eliza caught pneumonia at her husband's funeral that could add to the interest - and you might want to check on the weather on the day.
As far as I am aware few, if any, sets of coroner's inquest papers, which might include witness statements, etc., have survived for the period. However it is always worth asking at HALS.
I have no special knowledge of police employment and pension records but it could be worth approaching HALS or the Hertfordshire Police themselves to see if there are any surviving records for this period, and where they might be. There could well be surviving details of his career with the police.
When Thomas and Eliza died a number of their children would have been expected to have a job and may have already left home. Children under the age of 13 who were not being looked after by the family could have ended up in the workhouse, being sent out to work by the Guardians when they were old enough. All would have been out of the care of the Guardians by the time of the 1901 census. While I believe that HALS has some material relating to the old workhouse, which later became a hospital, I don't think these include details of admissions, or of placements of orphaned children.
The case of John Pearman is simple - as he turned up in the preliminary background - search and in 1901 census the entry for 104 High Street, Hemel Hempstead reads:
| | | | | |
| --- | --- | --- | --- | --- |
| Name | | Age | Occupation | Born |
| Henry Hooton | Head | 42 | Butcher (own account) | Hemel Hempstead, Herts |
| Charlotte Hooton | Wife | 40 | | Hagley, Worcestershire |
| John Pearman | adopted Son | 14 | | Hemel Hempstead, Herts |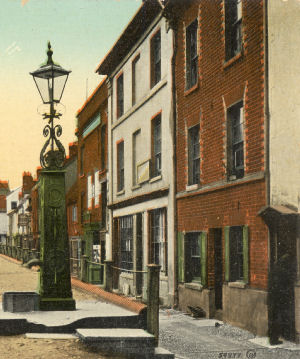 The decorative lamp post/post and the large white house (100 High Street) are still there. The house tinted red (now demolished) is No 102, and the nearer doorway is the entrance to Harry Hooton's butchers shop (also demolished).
[Detail from a tinted Valentine postcard photographed in 1906.]
When I wrote the book The London Gunners come to Town I made notes on who lived where in the High Street and contemporary trade directories show that Henry was a butcher at 104 High Street between 1895-1912. (In fact I think he died at the end of 1911.) He was followed by his widow Mrs Charlotte Hooton (1914-22) and then John Pearman in 1929. John would therefore seem to have been adopted by a childless couple, and when they passed on he inherited the business. (It may be that the Hooton and Pearman families were related and John went to live with a relative - as such informal adoptions was common in such cases, but I leave this as a puzzle for you to solve.)
A quick check on the 1901 census suggests that Albert was working as an under footman in a big house in Hertfordshire while Priscilla was a housemaid working in Sussex. This is typical of the work that the Guardians of the Poor would find for orphaned children when they became old enough to work.
If you are interested you should be able to find out more online about at least some of John Pearman's siblings in the 1901 and 1911 censuses.