Zeppelins, Walkern, October 1916

May, 2011

John Halsey (berkojohn258 @t aol.com) of Berkhamsted writes: I was in an antique centre in Lyme Regis the other day and found a postcard of Skegness sent to mum in WALKERN. It says that they have received her letter and are glad to hear that they survived the Zeppelin Raid. Postcard is 1916. Was there a raid in Walkern I wonder?
Fist a brief introduction on the Zeppelin raids of 1916.
To avoid being shot at from the ground the raids were normally at night - with a new moon - and they flew high. The noise of their engines could clearly be heard on the ground but they were hard to see beyond a shadow blocking out a few stars. A network of observers on the ground listened for them and phoned their positions so that the nearby towns and villages could be blacked out. It is clear from surviving records that we had little idea how much detail they could see on the ground - while they often had very little idea where they were. German records record "successful" bombing raids where it is known from British sources that they fell in uninhabited areas miles from where the Germans had thought they were. In addition to bombing targets some of the more rural bombs might have been dropped as ballast in order to gain more height. There was strict censorship and the British press were forbidden from reporting details of bombing raids.
When I wrote the book The London Gunners come to Town I looked at the Zeppelin raids that flew over West Hertfordshire, and I also wrote a booklet The Tring Zeppelin which discussed the history of the L.32. which passed over Tring on the night of 2/3rd September 1916 - when the first German raider was shot down. The map shows the approximate routes taken by the attacking airships - the Zeppelins L.16 and L.31 and the fated Schütte-Lanz 11.
The information for this map came from the books Joseph Morris's The German Air Raids in Great Britain (London, 1925) and the official war history, H A Jones' The War in the Air, Volumes 2, 3 & 5 (Oxford, 1928-1935). It would seem that the L.16 probably passed to the north of Walkern at the start of the attack. On seeing the SL.11 going down in flames the ship turned east and unloaded most of its bombs on Essendon. It then fled north and the map shows an additional bomb which can't have been that far from Walkern.
So could this bomb be the "Zepp raid" mentioned in the card? To find out we need to know more about when and why it was sent - which means knowing more about who sent it.
It was posted on the 4th October, a month after the Zeppelin raid of 2/3 September - and if Mrs Moles had been "at risk" at the beginning of September one might expect a quick exchange of reassurances. However further raids took place at the next new moon and some of the Zeppelins may have flown over the eastern half of Hertfordshire. Looking at Wikipedia we find that the L31 almost certainly passed near Walkern on 1st October, 1916:
The next raid came on 1 October 1916. Eleven Zeppelins were launched at targets in the Midlands and at London. As usual weather played a major role and only L.31 under the experienced Heinrich Mathy, on his fifteenth raid, reached London. Approaching from Suffolk, L.31 was picked up by the searchlights at Kelvedon Hatch around 21:45; turning away, the craft detoured over Harlow, Stevenage and Hatfield before cutting its engines and drifting with the wind over Hertford. As the airship neared Cheshunt at about 23:20 the engines were restarted and the craft was quickly picked up by six searchlights. Three aircraft of No. 39 Squadron were in the air and closed on L.31. Mathy ordered the dumping of bombs, (fifty fell on Cheshunt), in order to gain altitude. A BE2c piloted by 2nd lieutenant Wulstan Tempest engaged the Zeppelin around 23:50; three bursts were sufficient to set L.31 ablaze and it crashed near Potters Bar with all nineteen crew dying – although again many decided to jump rather than burn (including Mathy, whose body was found near the wreckage, embedded some four inches in the softened earth). Tempest had had to dive out of the way of the stricken craft and, over-wrought, had crashed on landing, suffering minor injuries.
It seems virtually certain that the "Zepp raid" referred to on the post card related to the final flight of the Zeppelin L31 on the night of October 1st,
More can be learnt by asking who sent the card. I checked the census returns over several decades (on Find My Past) and civil registration (FreeBMD). The card was sent to Mary Ann Holes, who in 1911 was a 77 year old widow living on her own at Mount Pleasant, High Street, Walkern. She was born Mary Ann Savage and married John Hole, an agricultural labourer) in 1854 and they had eight children, four of whom are reported as still being alive in 1911.
One of the surviving children was George and in 1911 he was a gamekeeper living at Ardeley, near Stevenage. His wife was Maud and she had mothered 13 children, 10 of which were still alive. The four children still living at home include 15 year old Alfred and 14 year old Victor.
George and Maud had three other sons In 1911 George (born Walkern, aged 30) was a gamekeeper at Trent Park, New Barnet, married to Eliza (29, born Luffenhall, Clothall) and daughter Gladys (5, born Trent Park). James (23, born Ardeley) was a gamekeeper at Brookside, Roydon, Essex and married to Lily (25, born Clophill, Beds). Bertie (21, born Ardeley) was an assistant boot repairer in Bournmouth.
So Maud was writing to her mother-in-law Mary Ann Holes and mentions Mary's grandsons Alfred and Victor - so we can be certain we have the right family. It also tells us more about the possibility of an incident affecting Walkern.
Look again at the Wikipedia description of the raid:
... turning away, the craft detoured over Harlow, Stevenage and Hatfield before cutting its engines and drifting with the wind over Hertford. As the airship neared Cheshunt at about 23:20 the engines were restarted and the craft was quickly picked up by six searchlights. Three aircraft of No. 39 Squadron were in the air and closed on L.31. Mathy ordered the dumping of bombs, (fifty fell on Cheshunt), in order to gain altitude.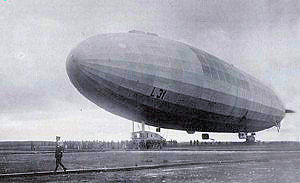 Travelling between Harlow and Stevenage the L.31. must have passed close to, if not directly over both Walkern and Ardeley. Before cutting his engines a few miles further on he would have wanted to gain maximum height - and could well have dropped some bombs as ballast to lighten the airship, something he did later over Cheshunt with devastating results. Under these circumstances it would not be surprising if some ballast bombs fell near Walkern as he was preparing to gain height before going "silent" and switching off the engines.
What was happening on the ground. After the shooting down of an airship at Cuffley the month before everyone wanted to see one go down in flames. If there was a blackout call or an Zeppelin could be heard overhead large numbers of people went outside to see the fun - and on the night of 1st October they would not have been disappointed. In fact what happened at Potters Bar would have been National News If, as I have suggested, the Zeppelin went over Ardeley and Walkern, it would have been talk of the villages, especially if a small bomb or two fell in the area. However, because of censorship, these bombs may well not have been reported in the local press - while most, if not all, later researchers into this major incident would have had so much information on the Cheshunt bombs and the Potters Bar finale that they could have overlooked such a minor incident as a few bombs which perhaps did no damage.
So a possible reconstruction: On the night of 1st October the Zeppelin L.31 dropped some bombs as ballast in the area of Walkern, possibly doing no significant damage. Everyone is talking about it and the story quickly spreads to the adjacent village of Ardeley. Maud hears about it and writes to find out if her mother-in-law is alright - Mary Ann replies that she is , and Maud sends the card being discussed, here.
OK. I still don't know if any bombs fell on Walkern that night, but if they did we know the name of the commander of the Zeppelin and his probable reason for dropping them when he did.
---
Nick has drawn my attention to the fact that Alfred Edward Holes died died in the War and I have added the following not about the involvement of the family during the War.
Alfred's father, George Hales (1857-1914) died at Ardeley in April 1914 and Alfred married Ethel Maude Baker (1890-1956) in the South Stoneham area of Wiltshire in 1915, their only daughter Ivy M Holes (1916-2004?) being born in Wiltshire the following year. Alfred joined the 9th Battalion, London Regiment (419016), as a rifleman and was killed in action on 25 April, 1918, having only arrived in France on 10th April. He has no known grave and is commemorated on the Poziers Memorial. He was posthumously awarded the British War Medal and the Victory Medal
During the war three of his brothers were also involved. George joined the Machine Gun Corps (39922) in 1916. James was a Private in the Berks Yeomanry (33929) and later in the Labour Corps (360192). Bertie joined the 6th Battalion, Bedfordshire Regiment (14144) and died of wounds in France 29 July 1916.
If you can add to the information given above tell me.
| | | |
| --- | --- | --- |
| May 2011 | | Page created |
| July 2016 | | Update re Holes family in war |