SAUNDERS, Redbourn, 19th Century

August, 2011
Commenting on William Hill, Transported to Australia, 1837 Carole MacPherson (macs260769 @t btinternet.com) of Cliveden, Bucks, wrote: Faith Hill born 1840 was my great grandmother. She seems to have had a liaison in the mid 1860s with the farmer George Saunders of Agnells Farm, Redbourn resulting in the birth of my grandmother Jane Faith Hill (later Saunders) in 1866 in Luton. Faith married G Saunders in 1869, as you say, but I have never found out what happened to George's first wife Fanny Martin. They had their last child in 1864, Walter James.
Thank you for your most interesting note. It made me dive for my old files as nearly 30 years ago I started (but never finished) a survey of all the larger farms within about 10 miles of the parish of Sandridge. The aim had been to explore cousin marriages between well-to-do farmers. I remembered that this included George Saunders of St Agnells farm.
In fact I did not have much about him that cannot now be found in five minutes online while my old notes involved ploughing through unindexed microfilms of the censuses (mainly 1851 and 1861) page by page. However I decided to add to my old notes by looking to see what had happened to the family in 1871, especially as you mentioned you had been unable to find his first wife, Fanny.
The 1861 census lists George Saunders, married to Fanny, at
| | | | | | |
| --- | --- | --- | --- | --- | --- |
| George Saunders | Head | 42 | Farmer of 245 Acres 8 Men & 3 Boys | Redbourn | |
| Fanny Saunders | Wife | 35 | Farmer's Wife | Abbots Langley | |
| Jane Saunders | Daughter | 13 | | Redbourn | |
| Emily Saunders | Daughter | 11 | | Redbourn | |
| George Saunders | Son | 6 | | Redbourn | |
| Jessie Saunders | Daughter | 4 | | Redbourn | |
| Daniel Saunders | Son | 2 | | Redbourn | |
| Eliza Ball | Servant | 16 | House Keeper | Parson Drove, Bucks | |
| Henry Carley | Servant | 17 | Horse Keeper | Flamstead | |
| William Bransbury | Servant | 16 | Horse Keeper | Flamstead | |
| William Coste | Servant | 13 | Errand Boy | Flamstead | |
Having done a lot of work on well to do farming families in the area I was unprepared with what I found and the big question is what happened to George in about 1865.
In December 1864 everything seemed normal as his son Walter James was baptised at Redbourn Church - but by 1866 the tenant in St Agnells Farm was John Thompson. In 1869 George married Faith Hill and while I don't have details he married and continued to live in the area which means that Fanny must have died as everyone would have known if it had been a bigamous marriage.
The 1871 census reveals a comparative disaster scene - George is listed as a Farm Servant living in what is probably an old farm house being used for agricultural workers accommodation. This would be a very lowly position compared with being the tenant farmer of a large farm. The earlier children are scattered to the winds in with Jane and Emily working as tobacconists in London, George is apprenticed to a builder in Boxmoor, and the three youngest children of his first marriage are still at school living with a widowed aunt in Boxmoor.
The 1871 census lists George Saunders at Foster's Farm, Redbourn
| | | | | |
| --- | --- | --- | --- | --- |
| George Saunders | Head | 51 | Farm Servant | Redbourn |
| Faith Saunders | Wife | 30 | Domestic Servant | Flamstead |
| Jane F Saunders | Daughter | 4 | | Luton, Beds |
| Walter Henry Saunders | Son | 10 months | | Redbourn |
| Abigail Hill | Lodger | 37 | | Flamstead |
Living in Holborn, London were:
| | | | | |
| --- | --- | --- | --- | --- |
| Jane Fanny Saunders | Head | 23 | Tobaconist | Redbourn |
| Emily Saunders | Sister | 21 | Tobacconist | Redbourn |
Living at Boxmoor were
| | | | | |
| --- | --- | --- | --- | --- |
| Thomas Monk | Head | 37 | Builder employing 5 men 2 Boys | Hemel Hempstead |
| Harriett Monk | Wife | 38 | | Hemel Hempstead |
| George Sanders | Apprentice | 17 | | Redbourn |
and at another address in Boxmoor were
| | | | | |
| --- | --- | --- | --- | --- |
| Jane Saunders | Head (Widow) | 55 | School Teacher | Abbots Langley |
| Jessie Saunders | Niece | 15 | Scholar | Redbourn |
| Daniel J Saunders | Nephew | 11 | Scholar | Redbourn |
| James W Saunders | Nephew | 6 | Scholar | Redbourn |
| Sarah J Cassels | Boarder | 14 | Scholar | South Shields, Co Durham |
I also noted that in 1881 George was a farm bailiff, almost certainly working with Daniel Saunders of Westwick Farm, St Michaels, (near Leverstock Green).
So what happened in about 1865? Did George go bankrupt - or was his tenancy terminated for some reason? Did Fanny die as a result of James's birth and George went to pieces? Do you have any ideas? I notice form the book Redbourn's History, by Alan Featherstone, the St Agnell's Manor court records still exist up to 1878 - so may well record what happened.
Carole responded with much more detail of the family: As you say, it is quite a mystery and you have now uncovered what I had previously found about strange family happenings in the mid 1860s in Redbourn. In fact, the problems seem to have started before 1865 as I ordered the birth cert of Walter James Saunders for 1864. It says: born 17 Nov 1864, father George Thomas Saunders, Farmer, mother Fanny Saunders nee Martin of High Street Redbourn (!) as informant on 29 December 1864, so after the Christmas Day christening. Would be very helpful to see the the tenancy records for St Agnells. Can't understand why I can't find a death in Redbourn or elsewhere for Fanny Saunders around 1865. I have also scoured in St Albans library for a death notice for Fanny in 1865 but nothing. As you say, what on earth happened to St Agnells tenancy and George in particular at that time? Sadly I have no idea and can only think that his wandering eye might have had something to do with it? Perhaps it was a problem of arranged marriages at that time between local farming families eg Saunders and Martins of Belswain.

Interestingly the two girls who decamped to London had interesting lives. Jane Fanny (b 1847) his eldest child went on to marry 3 times, first a master mariner and then, illustriously, Diederik Bernard Jordaan, a Dutch (Jewish?) banker who's father Jan, was the bank Jordaan et cie, which later became part of ABN Amro I think. So Jane Fanny lived part of her life in Paris, where DBJ was based with his address being rue de Rivoli. She then came back to England and I have a third marriage cert for her when she was well into her 60s in 1915 to an actor, Duncan Cecil Smart Melhuish. Her sister Emily had an illegitimate child in about 1871, Minnie Saunders Mansfield in Brighton but is living with her in Auriol Rd, Fulham in 1881. Can't find anymore about her though.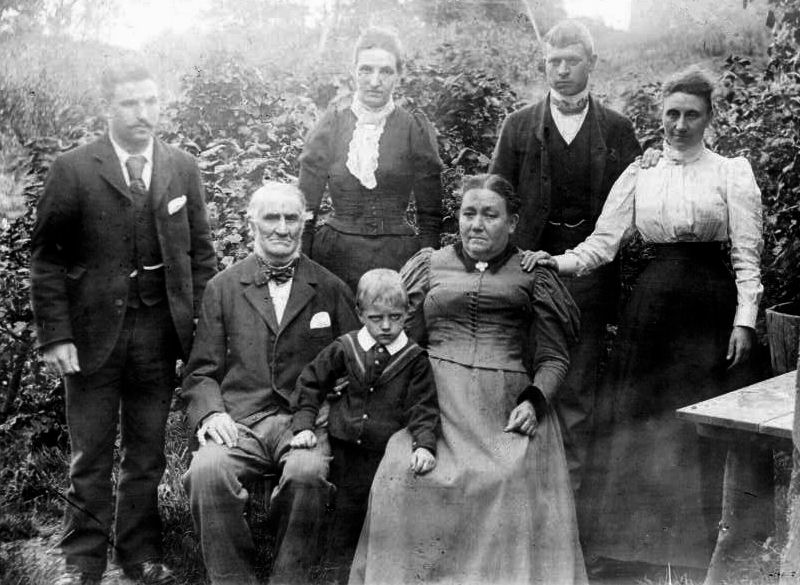 Have attached a photo of part of the Saunders family taken about 1900 with George T Saunders seated and Faith Hill next to him. My illegitimate grandmother Jane Faith is on the right touching Faith with her husband to be, my wonderful grandfather Alfred Elborn (b 1871) next to her. Others in the photo are Amy Maud and Henry Hilton, George's second family with Faith, younger siblings of my grandmother. He had the unnerving habit of calling the children of his second marriage by the same names as the ones of his first, which I find a little strange. The great thing is that GT Saunders was long lived and so were my grandparents and I lived with the two of them when I was a child. Alfred died in 1967 at 96 and I wished I had started family history earlier and asked him far more!! There is no doubt that my grandmother's father is GT Saunders though her birth cert does not show it. He looks, even in old age, the spit image of my mother!

Anything either you or other family history sleuthers can find to solve the little mystery about Agnells Farm and the Saunders at this time would be very gratefully received.
August 2011
Tony Harrison (a.harrison @t tesco.net) of Potters Bar, Writes: George Thomas Saunders was the son of William Saunders and Charlotte Humphreys. This was the William who together with Thomas (who married Maria Humphreys) inherited Agnells farm from their father John who died 1808 and this family is covered by Saunders of Redbourn 19th Century and of Hemel Hempsted in 18th Century dating back to our original correspondence in 2007.

Three Saunders married into the Martin family. Daniel eldest son of William who married Jane George Thomas his brother who married Fanny and George their cousin the son of Thomas who married Ann (Anna) who took over Belswains Farm where the Martin sister's father James Martin was until his death in 1834.

Anthony Carter (acarter @t health.sdu.dk) asks: Has your correspondent ruled out a death recorded at Hemel Hempstead in Jun Q 1868. This Frances Saunders was aged 42 a good match with the one in the 1861 census. A Frances in my own Herts family was always known as Fanny. An 1868 death would have cleared the way for George to marry Faith the following year. The farm was sold at the beginning of 1870 but no doubt you know that.
This all seems to clarify a number of points.
September 2011
Carole MacPherson (macs260769 @t btinternet.com) adds: I have this week received the death cert for Frances (Fanny) Saunders and can confirm that it is her, so thank you to the correspondent who pointed me in the correct Christian name direction. She died of phthisis which I gather is the old name for TB. This still does not answer exactly what problems beset Agnells Farm at that time, in which Faith Hill was somewhat involved, but it is another fitted piece of the puzzle.
May 2013
Sarah Houghton (sarahhoughton @t iprimus.com.au) of Queensland Australia writes: I have recently read the post from 2011 for George Thomas Saunders which was asking what had occurred around 1866 which resulted in him leaving Agnells Farm, Redbourn.

I have a copy of the divorce papers available through ancestry.com for 1866 in which he was divorced by Fanny Martin. He is cited for abuse, neglect, cruelty and adultery with Faith Hill alias Sarah Hill of Luton. It makes interesting if quite grim reading. I think that the compensation he was required to pay would probably have resulted in his moving from the farm.
New material is always becoming available online and I decided to check the British Newspaper Archives [also available on FindMyPast] for any stories involving George around 1866. I found the following stories:
On 30th September 1865 the St Albans magistrates heard a case where William Abrams of Redbourn was charged with assaulting George Thomas Saunders at Redbourn. This was reported in detail in the Hertford Mercury of 7 Oct 1865. It is clear that William Abrams was drunk and had previous relevant convictions. We will never know what was said in the pubs, but it is possible that the undoubtedly drunk William knew about George's affair and was publicly taunting him about it, and George's reaction could have provoked the attack.
The Morning Post of 22 December 1866 (and several other papers) includes George Thomas Saunders, farmer, of Luton, Beds, among the list of bankrupts.
If you can add to the information given above tell me.
| | | |
| --- | --- | --- |
| August 2011 | | Page created and updated with further messages |
| May 2013 | | News of Divorce, etc |