HARRIS, Hope House, Cheshunt, 1914

November, 2012
Doreen Venables (doreenvenables @t aol.com) of Hatfield, Doncaster writes: I have recently acquired my fathers baptism details, he was illegitimate and was one of Banardo's children to be boarded out at 3 shillings a week. The Cheshunt Parish Church Register says Born 19th December 1914 Baptised 17th March 1915 Charles Frederick Harris - Mabel Harris - Hope House. My question is was Hope House some kind of refuge for unmarried mothers?
Hope House is still standing, as No. 1. High Street, Cheshunt, and is now a solicitors office, as this view from Google shows:
Hope House was run by the St Albans & Chelmsford Diocesan Union for Preventative, Rescue & Penitentiary Work. and was possibly only established in 1914, as it is not listed in the 1914 Kelly's Directory for Hertfordshire. It is listed in 1917 when the superintendant was Miss F. M. Shill. Between 1922 and 1933 the superintendant was Miss Mary Brookes Ball, and in 1937 the superintendant was Miss A. E. Currie. It seems that Mabel Harris could have been one of its first unmarried mothers.
HALS has a lot of papers relating to the work of the Diocesan Board for Social Responsibility (Ref DA2/17) which have not yet been fully catalogued. Looking at the provisional list I suspect that the papers could include minutes referring to the management of Hope House, such as the acquisition of the building, the appointment of the superintendants, the numbers of girls accommodated at different dates, and the general arrangements for handling the babies born there - but probably not detailed records naming the individual girls or babies. However it would be worth you asking HALS. (If the girls and babies are named there may be restrictions on access under the 100 year rule, although exceptions in the case of relatives may apply.)
The house is a listed building and there is another picture and brief architectural description on Images of England. The name Hope House was almost certainly only given to the house when it was taken by the Diocesan Union circa 1914 and I looked to see what it was called before then. In the 1901 census it was listed as 1, High Street, Cheshunt, and occupied by a widow Mrs Martha Larman and family. It would seem while it was at the southernmost end of Cheshunt High Street, it was the most northerly house in Waltham Cross. In the 1911 census the most southerly house in Cheshunt High Street is No.3, and the Larman family are recorded as living in Boundary House, Waltham Cross. Various trade directory entries have the Larman family living in Boundary Lodge, Waltham Cross confirm that they didn't move during this period, and it is clear that they were still occupying the house in 1911.
---
Doreen kindly provided a copy of Charles's Boarding Out Certificate, and a picture of Class 3, Dewhurst School, with Charles marked. She also said Charles was confirmed at Cheshunt Church in 1930.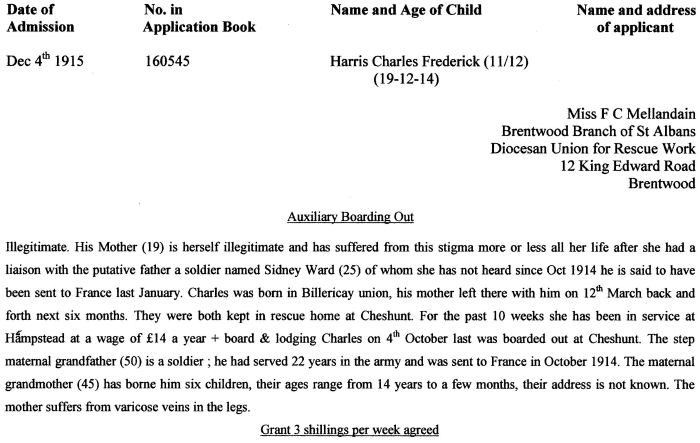 This certificate, from Barnardo's, makes it clear that mother and son were together at Hope House until his mother was found a position in London, when nine month old Charles was boarded out in Cheshunt.