MURLEY, London Orphan Asylum, Watford, Early 20th century

January, 2013
Carole Brown (jaco834 @t Yahoo.com) of Ontario, Canada, writes I am trying to find any information about my Father, Ernest William Murley whom I believe went to the London Orphanage Asylum together with his Brother Geoffrey William Murley. My Father turned 15 in 1915 so I think that is when he would have left there.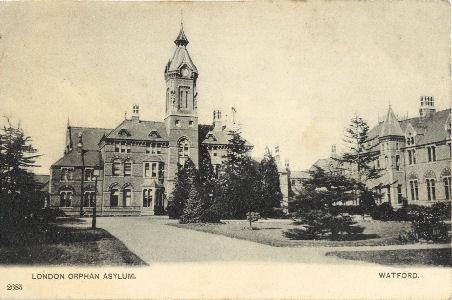 While Ernest and his brother George were in the London Orphan Asylum at Watford, the fact that they were there means that they came from London. This means that the relevant records will be in London, and a detailed answer falls outside the scope of this Hertfordshire web site. However I did a quick online search, using the web sites FindMyPast, Ancestry, FreeBMD and Google and you should be able to fill the details in online from Canada.
The 1911 census showed the two boys at the London Orphanage Asylum in Watford [FindMyPast]
Edward was old enough to be alive in the 1901 census and he was 10 months old and living at 84 Hubert Grove, Lambeth, London with his parents (and your grandparents) Thomas W(illiam) Murley (a 30 year old commercial clerk born in Eaton Square, London) and Ada A(delaide) Murley (born in Stockwell, London). [FindMyPast]
As he was an orphan in 1911 I checked and found that a 37 year old Thomas William Murley's death was registered at Wandsworth in April-June 1908 [FreeBMD]
In addition Thomas William Murley married Ada Adelaide Melliush in April-June 1899 [FreeBMD]
Knowing that Thomas William Murley was born about 1870 allowed me to find him in the 1871 census as an infant living in a house in Buckingham Place Road, Westminster, London with his parents (your great grandparents) Thomas William Murley (senior) (a provision merchant, aged 30, born Lambeth) and 20 year old Clarissa (born Padworth, Berkshire), two assistance in the family business, and two domestic servants. FindMyPast]
I did a quick Google and found the following in the London Gazette which clearly refers to your ancestors: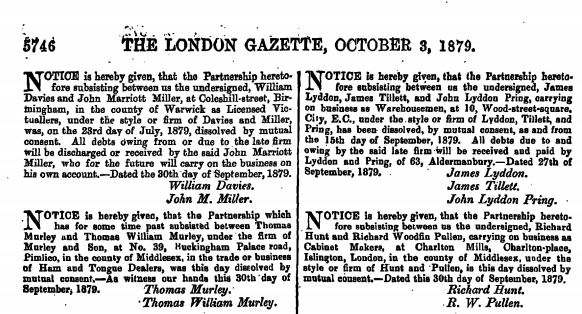 A search of the British Newspaper Archive showed the following Marriage entry in the Reading Post of 10th October, 1868.
On the 6th inst., at Bramley Church, by the Rev. John Stevens, Thomas William Murley, of 39, Buckingham Palace-road, to Clarissa, eldest daughter of Mr. John Stevens, Esq., of Pamber, Hants.
Knowing Thomas William Murley's age allowed me to find his birth registration at Lambeth in 1840 [FreeBMD] and that at the time of the 1851 census he was living with his parents (your great great grandparents), the 46 year old Ham Dealer, Thomas Murley (born Chinnock, Somerset), Elizabeth Murley (36, born Demerara, West Indies), four brothers and sisters, and four domestic servants. [FindMyPast]
The Google search also revealed that there was different family, possibly cousins, in which a Thomas William Murley (not you ancestor) emigrated to Australia
At this point I switched to Ancestry (which also contains census information) and found there was a family tree for Thomas William Murley (1840-1899) which includes further information about him and his family. It records your great great grandparents as yet another Thomas William Murley (1805-1884) and Elizabeth Frazer (1815-????). Next generation back we have Thomas Murley (1776-1855) but before that the Murley line goes cold for the time being.
You should be able to find much more online if you look through the census returns yourself on Ancestry or FindMyPast (some references may simply be to Thomas W Murley or Thomas Murley and the name might be misspelt), purchase relevant birth, marriage and death certificates, and follow up the Ancestry family tree - which may well lead you to living cousins you didn't know existed. There may also be relevant information on Familysearch - but I didn't look there.
If you can add to the information given above tell me.