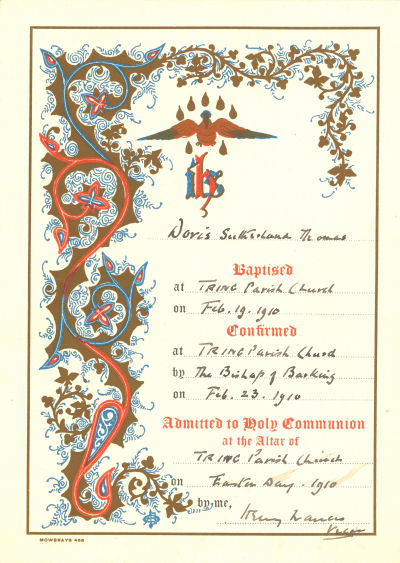 In the 1901 census Walter is listed as a electrical engineer, living in the Mill House with his family, and a single live-in servant, Alice Emery (19, born Tring).
In 1910 his daughter, Doris, was baptised as an adult, confirmed, and admitted to holy communion in Tring Parish Church.
By 1911 he was listed as Estate engineer, with the family. Phyllis, now 22 was listed as a "student at school" and was presumable a student teacher. Rhoda, 21, is listed as having no employment, and Doris 20 is recorded as assisting with the housework. There was also a live-in servant, Elsie Potter, 14, from Weston Turville.
From 1912 until his death in 1946 Walter Morris Thomas was listed as living at Mill House, Brook Street.
Mary Thomas was buried at Tring on 12 Feb 1938, aged 83 while Walter Morris Thomas was buried at Tring on 11 Oct 1946 aged 86.