Percy Buck, Hitchin, died St Julien, 1917

March, 2014
Herts at War are researching the backgrounds of the Hertfordshire soldiers who died in the First World War, and to do this they often need the help of living relatives - who hold vital information, often as photographs and letters. One of their success stories recently appeared in the Daily Mail under the title Photo clutched by WWI British soldier as he died on the Western Front was returned to his family ... by the German who killed him.
I will not duplicate the very interesting story here but will say something about Percy Buck's background and end with a question - illustrated by a photograph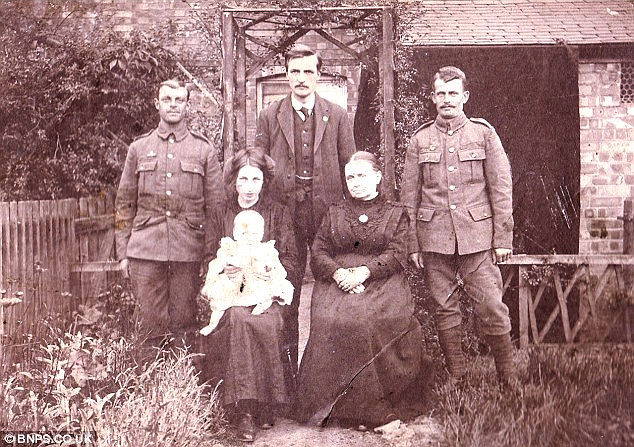 Percy Buck was born in Peterborough in 1892, the eldest son of John Buck, a railway carriage fitter and his wife Elizabeth. The family moved to Hitchin in about 1902 and lived at 9 Baliol Road, Hitchin. In the 1911 census Percy is recorded as a printer's apprentice, his eldest sister Beatrice embroidered silk, brother George was a gardener and there were two younger sisters, Jessie and Irene, and a younger brother Reginald.
Also in 1911 The Stevens family were living in Newlands Cott, Collison Lane, Hitchin. The household consisted of father William, a farm labourer (48, born St Ippolyts), his wife Sarah Ann (54, born in Ireland), daughter Bertha (19, born St Ippollyts) and brother Charles (18) a jobbing gardener.
In 1912 Percy married Bertha and baby Cyril was the result. The above picture shows Percy (middle back row), Bertha with Cyril, sitting next to Mrs Sarah Ann Stevens. The soldier on the right is said to be Percy's brother Ted, the other soldier is unknown.
The article includes one other photograph, of a group of Hertfordshire Regiment soldiers with Percy on the right. Bearing in mind the losses at St Julien it is very likely that at least one of the other soldiers died on 31 July 1917. But who are they? Can you identify anyone?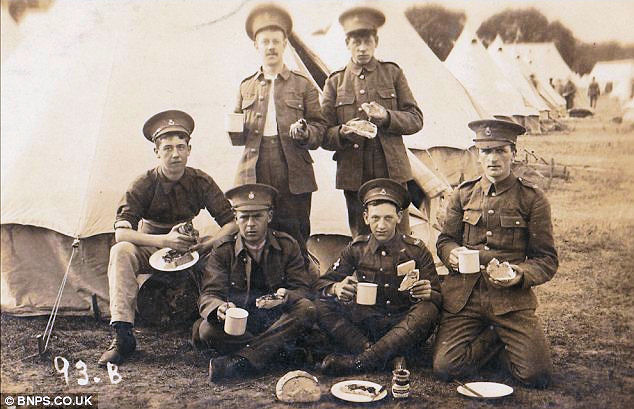 More generally, if you have any old family photographs and letters relating to the First World War there is almost certain to be someone researching a war memorial or casualty list somewhere who is currently researching everyone on the list. Obviously my interests, and those of Herts at War, relate to Hertfordshire, but similar efforts are being carried out all over the country. So if you have historically interesting material why not share it - and the research may well turn up additional information you did not know.