CARRIAGE ACCIDENT. – On Monday afternoon, about four o'clock, a coachman named How was driving one of Mr Hogg's flys up the hill on the Harpenden-road towards Hawkswick second lodge, when a lady who was driving in the direction of Harpenden attempted to pass him, but became confused and pulled the wrong rein, colliding with the fly. The effect was to overturn the trap, take one of the wheels off, and throw the occupants, a lady and a gentleman, into the road. Both were severely shaken, and were conveyed to St Albans in a carriage which came upon the scene of the disaster, and resumed their journey by Midland Railway.
Herts Advertiser, 23rd August, 1890
A BILL OF EXCHANGE TRANSACTION. ... Ernest Dixon and Walter Dixon, trading as Dixon & Son, St Albans [corn merchants] sued William Thomas Hogg job master, St Albans, for £70 1s 7d on a bill of exchange. ... On June 12th inst Hogg was driving a brake and horses when he had a collision with Mr. Cable [job master] ... Mr. R. W. Brabant, solicitor, stated that on Mr. Cable's advice, and on August 12th he instructed a writ to be issued against Hogg in respect of the accident. At that date costs would probably amount to £15. ...
[A complex case involving possibly shade money transfers - for full account click here.]
Luton Times, 24th February,1899
TRAP ACCIDENT. – A serious trap accident occurred along the Harpenden-road on Wednesday evening. Mr. Simmons was driving Mr. and Mrs. Ayres, of Sunnyside, in a landau towards Harpenden. They had just passed the rifle butts at Beech Bottom, and were driving up the hill, when Mr. Simmons noticed a four-wheel phaeton, with four occupants, being driven at a great rate towards him from Harpenden. Mr Simmons pulled as near the hedge as possible, and stopped to allow the vehicle to pass. The driver seemed not to notice Mr. Simmons, and he drove his trap straight for him. The Phaeton collided with the other trap with great force, and completely cut away the iron under the carriage part of the landau, letting the body of the carriage fall to the ground. The phaeton, containing Mr. Holloway, of St Paul's-churchyard, London, who was driving , Mrs. Holloway, Mrs Spicer, her sister, and the coachman, was turned completely over, the occupants being thrown into the middle of the road. A number of helpers were soon on the spot, and the unfortunate persons were sent to St Albans in another trap, their own being completely smashed. Their injuries were attended to at Dr. Lipscomb's surgery, but Mrs Spicer was so much cut about that she was unable to return to London, and is now lying in the Peahen Hotel. Mr. Holloway's shoulder was very much bruised, and his wife was also cut badly on the face. The coachman escaped with only a shaking. These three were conveyed back to Finchley in a trap by Mr. Hogg, of St Albans, the same night. Mr. and Mrs. Ayres received no injuries.
Herts Advertiser 20th June 1891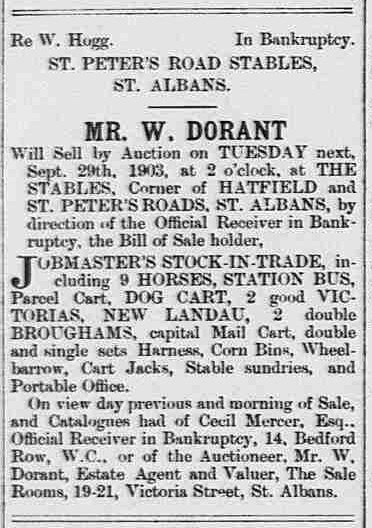 Luton Times, 25th September 1903