Little Gaddesden & Ashridge

by

Canon Howard Senar

Phillimore & Co, Chichester, 1983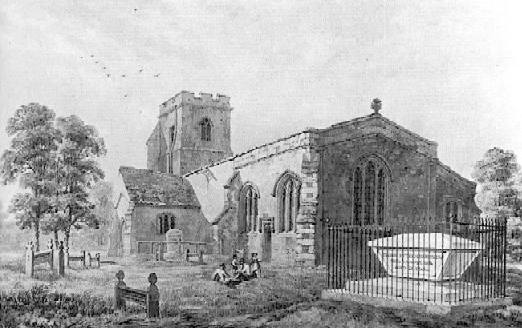 Little Gaddesden Church circa 1808
This book contains a wealth of information about the village of Little Gaddesden, its buildings, including the church (now on its own in the fields) and John O'Gaddesden's House. John would not recognise it as he live in the first half on the 14th century, while only a small part of the existing house dates back to the 15th century. There is information on Ashridge College, which was founded in the late 13th century. The college was dissolved in 1539 by Henry VIII but the house became a royal residence and when Edward VI became king he gave Ashridge to his sister Elizabeth. The property later passed into the hands of the Earls of Bridgewater. The history continues and covers the current management college (in the house), the 4,000 acres now in the hands of the National Trust - including extensive areas of woodland, and the Ashridge Golf Course.
There is a good collection of photographs of the area - and many detailed notes and lists on a very wide range of subjects - such as a list of the village policemen. Unfortunately the index does not cover these lists but it is an essential read for anyone who wants to know about the village where their ancestors lived.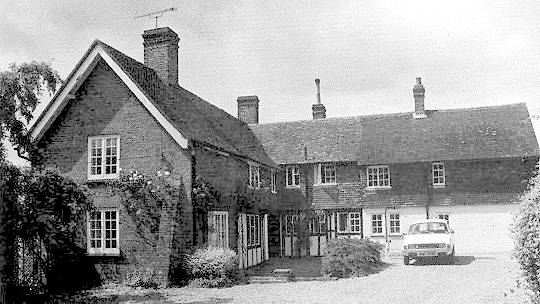 Hudnall Farm
John of Gaddesden was born about 1280 and died either in 1349 or in about 1361. He was a student at Merton College, Oxford and became a Doctor in Medicinis in 1309. He wrote a book "Rosa Medicinae" in about 1314, and it is said that when Chaucer wrote the Canterbury Tales he based the "Doctour of Physick" on him. In 1320 he was Rector of Chipping Norton, In 1333 he was Canon of Chichester and in 1342 he was a Prebendary of St Paul's Cathedral, He served Edward I and wad court physician to Edward II.
My reading of the text is that, apart from his name, there is no indisputable surviving evidence to link him to Little Gaddesden, or to the house named John O'Gaddesden's House - which is definitely not old enough to have been his. There was definitely an earlier John of Gaddesden as when the Manor of Little Gaddesden was given to Ashridge College of the Bonhommes on its foundation in 1283 one of the signatories of the Fouundation Charter was a John O'Gaddesden.
There is more detailed information about the church in Howard Senar's guide
Locating Books
At the time this page was last updated second hand copies could be ordered online
Page updated June 2008