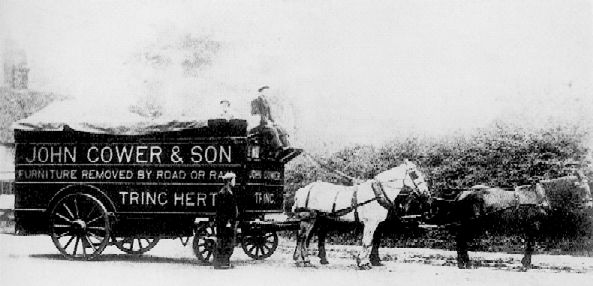 John Gower and Son's waggon, photographed in 1910 at the junction of Brook Street and London Road. The Robin Hood can be seen on the left. The Business was founded in 1876 and in the early 1900s was trading from premises in Queen Street and Western Road, dealing in coal, coke, wood and furniture removals. Before the First World War Gowers had sixteen horses but several were taken for war work. Travelling to Manchester or Leeds to make deliveries by rail the horses would be put in a horse box on the train and the pantechnicon on rolling stock,
From "Around Tring" - both editions
Mike Bass is a professional photographer who has a very large collection of old photographs of Tring, which have been published in a number of books. In each case there is a useful descriptive text with the picture.:
Tring in old picture postcards: Volume 2
Mike Bass & Jill Fowler
European Library, 1993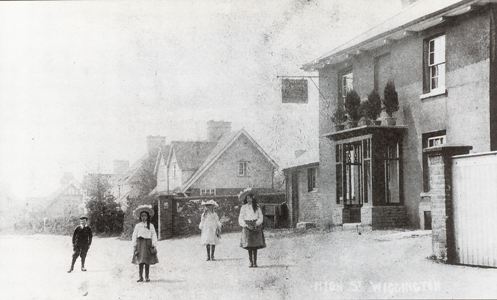 The Brewhouse Public House, High Street, Wigginton. (from Around Tring)
Mike Bass & Jill Fowler
Chalford, 1996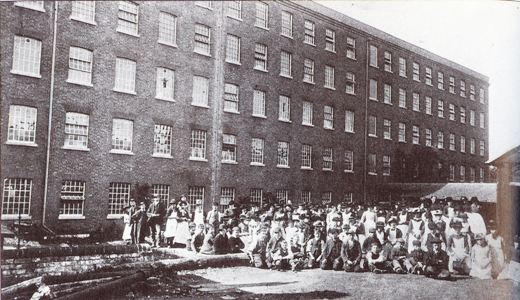 The Silk Mill at Tring - See Silk Mills
From Around Tring - The Second Selection
Around Tring: The Second Selection
Mike Bass & Jill Fowler
Chalford, 1998
There is a web page for books in the The Archive Photographs Series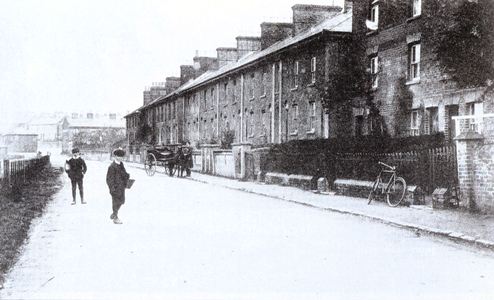 New Mill Terrace (detail) see Emery, Tring.
The Pheasant public house can be seen in the distance
Around Tring
Mike Bass & Jill Fowler
Tempus Two in One Series: Tempus Publishing, 2001
Pocket Edition: Nonsuch, 2006
This book is a reprint of the two Chalford books in one volume and is currently in print. It is excellent value for money.
1900-1950

Jill Fowler

Tempus Publishing, 2003

This book includes photographs for each decade from 1900, showing a wide range of activities within the town and its neighbourhood. There is a good supporting text with each picture. The cover picture was taken in 1946 and shows Mr and Mrs Walter Tapping on the Golden Wedding Anniversary with their family.
1951-2000

Jill Fowler

Tempus Publishing, 2008

The sequel to Tring 1900-1950, this lavishly illustrated book traces the history of the second part of the twentieth century and documents the many changes which have taken place in those fifty years. This small market town has rapidly expanded in recent years bringing in large numbers of new residents, many from London. The influx has inspired the founding of many clubs, societies and sports facilities. Lying in London's commuter belt, council redevelopment of large open spaces around Tring has seen the destruction of many old buildings, however much still remains.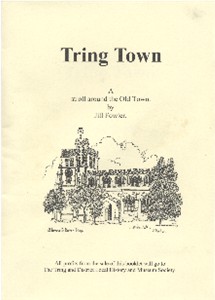 Jill Fowler has produced two booklets of historical walks around Tring, with sketches of some of the buildings, available from the Tring & District Local History and Museum Society.
The Tring Triangle
A stroll around Tring's West End
Tring Town
A stroll around the Old Town
~~~~~~~~~~~~~~~~~~~~~
Mike Bass (MBass1943 @t aol.com) also sells mounted copies of old local photographs, some of which can be seen (and ordered) at www.oldtring.co.uk, and a catalogue can be seen by callers at Spiders, Western Road, Tring, where orders can be taken.
Jill Fowler

Amberley Publishing, 2009

Tring has been a thriving market town for many centuries. In spite of extensive new building in the second half of the twentieth century, most of the interesting old buildings in the High Street have survived. In only a few of the modern photographs is it impossible to find a trace of Tring as it used to be a hundred years ago, and Tring in the twentieth century is still an interesting town for visitors.

The Natural History Museum in Akeman Street attracts thousands of people each year and the lovely old church is well worth a visit. The Chilterns form a backdrop for the town with extensive beech woods, and canals and reservoirs are available to the public for walking, bird­ watching, fishing and boating. Perhaps these photographs will encourage people to explore Tring and its nearby villages, and find places of interest for themselves.

This fascinating selection of more than 180 photographs traces some of the many ways in which Tring has changed and developed over the last century.
There is a web page for Tring