Carolyn Anker (carolyn @t netc.net.au) of Wangaratta, Victoria, Australia, writes My grandfather, Harold Campion Watson, joined the Royal Navy as a teenager and his address on his records is given as 49 Bravington Road. Paddington. His wife Ethel Maria Emery and her address as 24 New Hill terrace Tring. Can you give me any information about these 2 areas. Harold was born 24 December 1895 in the parish of Little Heath, Hatfield Sussex.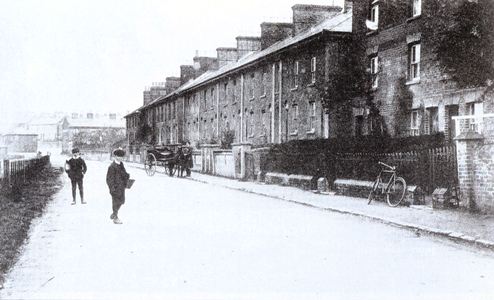 New Mill Terrace (detail) in the late 1920's from Around Tring
You don't say what records you have already seen but the address you give for Ethel Maria Emery is almost certainly an error for New Mill Terrace and if you want to know more about Tring you should have a look at the Tring page on this site, which includes a very detailed account about Tring in 1947 including a street map.
Paddington is a district of London (formerly the county of Middlesex) and lies outside the scope of this web site - but you may well find details on GENUKI and other more general web sites.
You don't say whether you have yet seen the birth or marriage certificates of Emily - but a 9 year old Emily Emery is listed as living in Tring on the 1901 census, which you can access online. From this information, verified by Emily's birth certificate from HALS, you will probably be able to find her family in the 1881 census, which is now also online. In fact there were people called Emery living in Tring in the 1851 census, and there still are.
November 2002
Carolyn (carolyn @t netc.net.au) replied: Thank you for your informative reply to my Emery/Watson query. I have since discovered Ethel Emery married Harold Watson in the District of Berkhampstead in the June Quarter of 1915 - Vol.3a - Page 2257. Does that mean that the Dacorum Register Office is the place to apply for the certificate.
The answer is yes. Your could also get a copy from HALS, but the one from the Dacorum Registrar is likely to be closer to the original - which may well be in a church or chapel register - but it is not clear which until you get the certificate. (In theory all copies should be the same - apart from the fact that the original will have the original signatures. See A Comedy of Errors for the kinds of problems that occur in the registration process.
January 2003
Carolyn (carolyn @t netc.net.au) reported further: Further to my requests for information on Ethel Maria Emery and her marriage to Harold Campion Watson, I now have information that they married at New Mill Meeting House New Mill Tring on 29th May 1915.
I expect that the meeting house referred to was the New Mill Baptist Church, as I know of no other meeting house at New Mill.
September 2003 - EMERY and WILKINS
Carolyn (carolyn @t netc.net.au) updates her research on the Emery family and asks some further questions about the related Wilkins family: She writes: Through your kind help I have had great success in tracing more information on the Emery Family of Tring. I now discover that Ethel Emery's (from her birth cert.) parents were John Emery and Elizabeth Hannah Wilkins who married after the 1881 census (November 1881). However the 1901 census shows that Ethel's parents are William Wilmot and Elizabeth Wilmot, even though her name and that of her siblings is Emery, with one daughter Lily Emery stated as being a step daughter. I guess logic tells me Elizabeth has remarried between 1881 and 1901 but what do I make of the children's relationship?
As you say, it looks as if John Emery had died and Elizabeth had remarried. The 1891 census for Tring - unfortunately not indexed, would show you the position in that year, and the birth certificates of the individual children will confirm details. In fast step families (and unofficial "adoptions") can sometime confuse the census takers - so common sense has to be used.
I am looking for contacts of the Wilkins line - Daniel and Maria (Horwood) married 1851 to follow up more information. The 1881 census gives the Wilkins residence as Tring Ford. Are you able to enlighten me as to its location?
The road running north from New Mill is called Tringford Road, and one of the three large canal reservoirs adjoining this road is Tringford Reservoir. Close to the reservoirs there is Tringford Farm. Before the Grand Junction (now Union) Canal was built (around 1800) a stream ran along Brook Street, Tring, between the New Mill Baptist Church and where New Mill Terrace now is, and down to Tringford - where presumably there was a ford!
The 1851 census transcript throws some further light on the Wilkins and Horwood families. Both names being comparatively common in the area - so treat the following as a taster rather than proved relatives:
Your Daniel Wilkins (20, labourer in brickfield, born Tring) was living in Akeman Street, Tring with his father Richard (63, labourer brickmaker, Tring) and his mother Ester (63, Wigginton).
Maria Horwood (18, straw plaiter, born Hawridge, Bucks) was a lodger in a house on the other side of Akeman Street, occupied by James Wilkins (widower, 40, formerly brickmaker, Tring) and four children. Also in Akeman Street, close to Richard Wilkins' address, was a Martha Wilkins (widow, 41, born St. Leonards, Bucks) with 8 children between 3 and 19, and two visitors.
December 2003
Carolyn (carolyn @t netc.net.au) writes: Many thanks for all your help over the last eighteen months. Your pages have achieved the ultimate in success for me as an unknown cousin discovered my postings of Ethel Maria Emery and recognized her as her great aunt. The information I then received has been invaluable. I am now keen to find out more about The Grand Union Canal as I am told the Emery family had some connection with it. Richard Emery (Grandfather of Ethel Maria Emery) was a "boatman" at the time of his marriage in 1854. He had an uncle, also named Richard, who was a lock keeper at the Cow Roast Lock in Tring. On the night of 23 July 1879 he fell in the water and drowned. the report of it was in the Berkhamted News and apparently made interesting reading. Are you able to shed any light on this incident?
When a working man had a fatal accident in the late 19th century it was far from certain that there would be any press coverage. The inquest would often be within a very short period of the incident, often in a local public house or similar building, with the body available to the coroner and a jury of local people. If there were no scandalous circumstances the coverage would depend on whether a reporter attended. Often the report of such a death would only be a couple of sentences - and I suspect some went unreported.
At the time you are talking about I suspect that the paper providing the best news coverage for Berkhamsted would be the Gazette (published in Hemel Hempstead) while Tring news was covered by the Hertfordshire Advertiser (published in St Albans) and the Bucks Herald and Bucks Advertiser (both published in Aylesbury, Bucks). The editor of the Herts Advertiser may have got his Tring news through his cousin - who edited the Bucks Advertiser but I have not checked to see if accounts in the two papers were ever identical. [The battle between the Gazette and Herald for news coverage of Tring town and rural district continues to the present day.]
I assume you have not seen the cutting yourself, and I don't have time to dig around the microfilms of the relevant papers. However I am making enquiries to see if the information is available elsewhere.
There are links on the Occupations page relating to the Grand Junction (later Union) Canal and other canal workers.
There is a web page for Tring
If you can add to the information given above tell me.