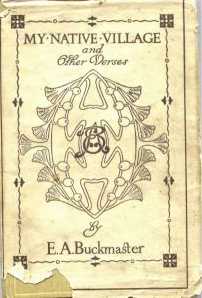 Books on Hertfordshire
My Native Village
[Widford]
and other Verses
by E. A. Buckmaster
W Heffer & Sons, Cambridge, 1911
There is a village little known,
That in my memory o'ergrown,
Will ever stand out quite alone;
For there - the reason you may scorn -
There stands the house where I was born.
Although remote from shore and sea,
It was a Paradise to me;
And though I took no part in tillage,
I loved each stone in that dear village. ... ...
The book is basically poetry and a number of the poems paints rural scenes which could be almost anywhere. I have never visited Widford and would not know whether the main poem accurately describes the village of Widford, but I note that it mentions a pub called the Victoria (unfortunately quite a common name) and Widford had a pub called the Victoria which became a private house about 1960. The reference to the Bury is even less distinctive as almost every Hertfordshire village has a farm or former farm called The Bury. Someone who knows the village may well have more luck relating the village as it was to the poem.

Edith Augusta Lewin married Stanley Owen Buckmaster in Ware in 1889 (FreeBMD) and was born in Widford in about 1863 (according to the 1871 and 1901 censuses). The British Vital Records Index show her as being baptised at Harpenden on 10th August 1862.
There is a web page for Widford
Locating Books
At the time this page was last updated second hand copies were available online.
Page updated January 2007