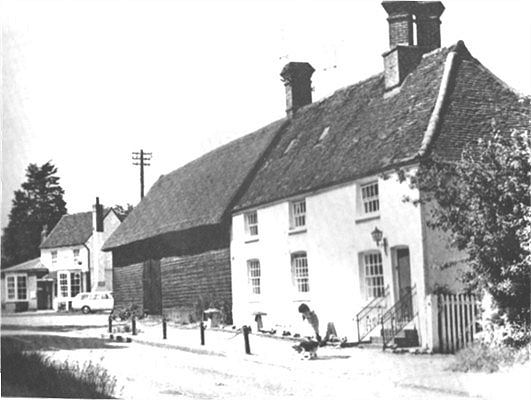 The Village street - from A View into Hertfordshire
Widford, always associated with Charles Lamb, is two miles N. of Hunsdon, a small place on high ground overlooking the valley of the River Ash. Blakesware, where Lamb spent so much of his childhood with Mary Field, his grandmother, is the other side of the river and railway, but the house that Lamb knew was demolished during his lifetime. The church is between the main road and the railway; it is mainly of the Decorated and Perpendicular periods and was restored some years ago, when the present copper covered spire was added; it should be noted the tower has no buttresses. There is a ring of 6 bells, one of which dates from the fifteenth century.
Alderman, A Pilgrimage in Hertfordshire, 1931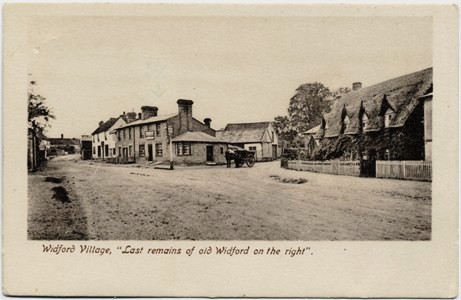 A postcard of Widford Village, "Last remains of Old Widford on the right", with the Royal Oak in the middle distance. According to Hertfordshire Inns & Public Houses it had been converted to a shop by 1922. (see Postcards of Hertfordshire Pubs)
Adjacent Parishes: Eastwick, Hunsdon, Much Hadham, Sawbridgeworth, Ware
If you know of other books, websites, etc, relating to this place, please tell me.