Haileybury Register
Haileybury College 1862-1942
Haileybury and Imperial Service College 1942-1961
edited by William F. Hood
Published by the College, 1962?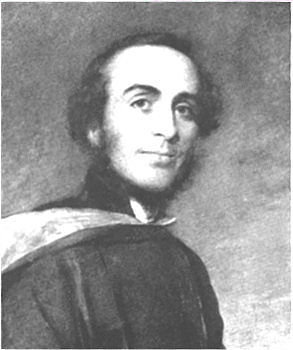 The Rev. Arthur Gray Butler. M.A.
Headmaster of Haileybury 1862-1867
Many English Public Schools and Universities have published registers which list former students, and Haileybury College is no exception. The earlier entries tend to be brief but normally include full name, date of birth, father's name, the dates at the school, and the school house occupied, and where known the date of death. Later records can include a summary of the pupils career - including the address when the register was published in the case of surviving old boys. Military activities (including brief details of those killed in action) are noted. The register also contains a brief history - including notable dates, together with a register of school and house masters, and information on sporting achievements. There is also a list of books published about the college.
There is a web page on Haileybury College which includes extracts from the register.
~~~~~~~~~~~~~~~~~~~~~~~~~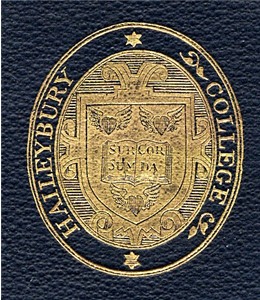 Haileybury Register 1862-1910
Edited by L S Mitford
In addition to including information on the pupils (which are also included in the late edition in less detail) it includes a large scale map of the school estate, including the main school buildings and sports fields. It also includes extensive lists of the results of sporting competitions, prize winners, etc., which are not repeated in the later volume.
One interesting section is a list of the tablets and brasses in the school chapel. This includes a tablet of forty members of the Indian Civil Service who had been members of the old college and who died during the Indian Mutiny 1857-59.
----------------------------
The ten editions of the register cover the years to 1887, 1891, 1900, 1910, 1922, 1931, 1946, 1961, 1973 and 1983. There is a copy of the 10th edition (and probably others) in the Society of Genealogists Library.

For an example of the type of information that can be obtained from the register - particularly when the individual is geographically mobile - see CURRIE, Haileybury College, 1873-1921

Locating Books


At the time this page was last updated second hand copies of most years were available online
| | | |
| --- | --- | --- |
| | | |
| June 2010 | | Addition of reference to 10th Edition |