Haileybury College

Great Amwell, near Hertford
| | | |
| --- | --- | --- |
| | | The College came into existence in 1809 for training young men who were to work for the Honourable East India Company. The College closed in 1858, but was reopened as a public school in 1862. |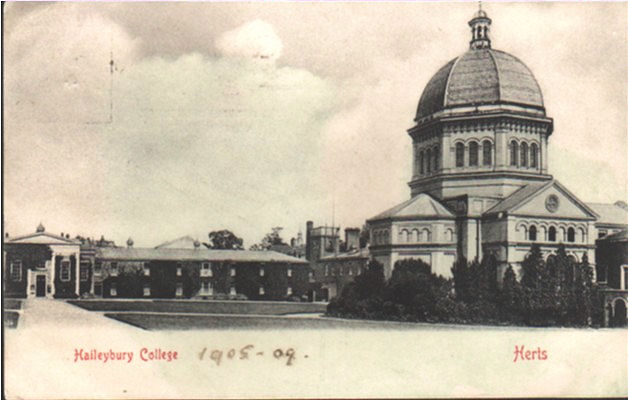 Card published by E Cross, 1, 2, 3 Pembroke Street, opposite Christchurch, Oxford
Posted to Mrs A. F. Bellman, Stapleford Vicarage, Crawley, Sussex, on 4th June 1908
I am certain we shall have a holiday on the 13th. I hope you will come early and stay late. I will take the letter up to Mrs Ling tomorrow. I hope the strawberries will be ripe. Wonderful chicken!!! J.F.B.
The register records: BELLMAN, John Francis, born 4 Jan. 1893, son of Rev. A. F. Bellman, married 1919, Elsie M., daughter of Captain Hoskins. Colvin House, Summer 1906 to Spring 1909. R. W. Kent Regiment 1914-1918, Captain, Mentioned in Dispatches, Military Cross, France. Associate of the Institute of Chartered Accountants 1918, Corps of Military Accountants 1919, transferred to Royal Army Pay Corps 1925,. Major 1935. Lieutenant-Colonel 1939, Colonel 1942, Acting Brigadier 1946, East Africa and S.E.A.C. (Delhi). Retired 1950. Partner Cook, Sutton & Co., Chartered Accountants, Nairobi, since 1954. Address: Colonel J. F. Bellman, Box 3165, Nairobi, Kenya.
His brother, Cannon Alexander Frederick Bellman, was at Haileybury between 1905 and 1909, which may explain the date written on the front of the card.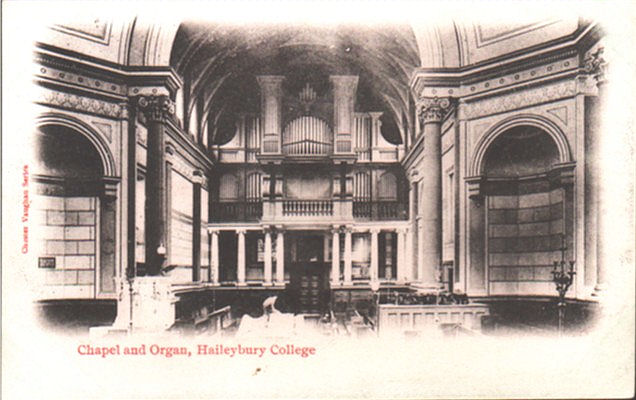 This card (and the following cards) was published in the "Chester Vaughan Series" with an early divided back format suggesting a date of circa 1905. It is unused.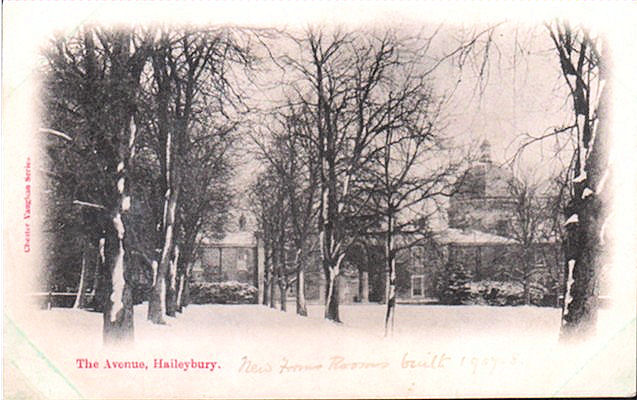 Unused - apart from the words "New Form Rooms built 1907" on the front.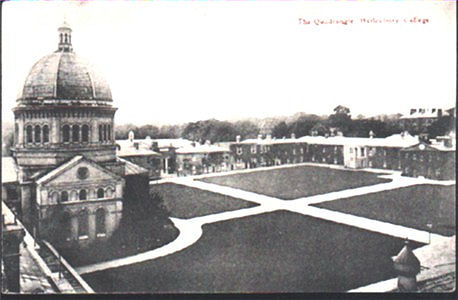 This card, of Haileybury Quad, was posted in 1909. The message on the back is not by a pupil, and conveys no useful information.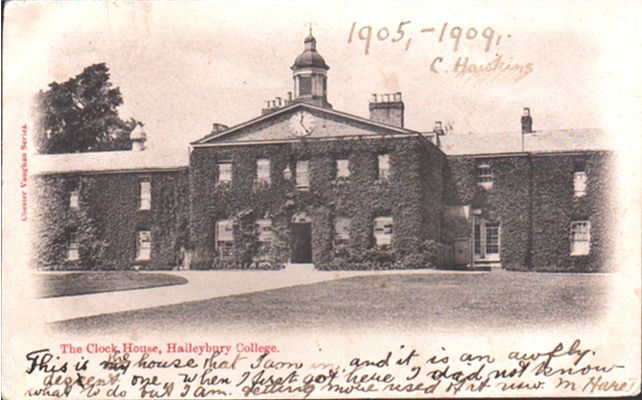 Posted to C R Draper, Esq., Heathmere, Haywards Heath, Sussex on 26 January 1904
This is my the house that I am in. and it is an awfly descent one, When I first got here I did not know what to do but I am getting more used of it now. M Hare I
College is so different to what you said it was, we do not have much work to do here. I am grubbing with another boy and we get on well considering we are new boys. M Hare I
The register shows that Maurice Francis Gustavus Hare (born 24th February 1889) and his brother Harcourt Frederick Stanley Hare (born 4th August 1890) joined the school in January 1904 and stayed until Summer 1906. They were the sons of Captain F. A. Hare, Girgin, Western Australia. Maurice fought with the Australian Infantry during the First World War. He was a farmer and his address in 1961 was Vista Avenue, Rockingham, W. Australia., while his brother's address was 19 Onslow Avenue, Elizabeth Bay, Sydney, Australia.
[John Feltham has written pointing out that "Girgin" is probably an error for Gingin (which is about 50 miles north of Perth, W.A.). He says he used to live in Rockingham, where one of the brothers lived.]

The front of the card is marked 1905-1909, C Hawkins, in a different hand. The date is the same as the first card reproduced (q.v.).
The Terrace, Haileybury College

This is a view of our Chapel and the whole front of the college from one of the cricket fields. The Head Master's house is at the left end - with love G H J R
Dormitory

Haileybury College

no publisher or date information but probably the inter-war period
A Dormitory

Haileybury College

Published by Chester Vaughan Series, circa 1903

The card was posted in Kalamazoo, Michigan, USA to Paw Paw, but there is nothing to link the message to the picture on the card.
---------------------------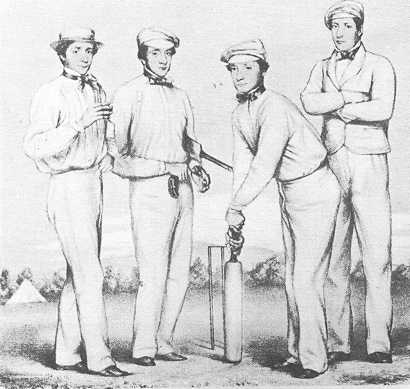 William Caffyn, cricket coach at Haileybury
From The Book of Amwell, which includes a short history and about a dozen pictures.
The posting CAMPBELL, Hertford & Great Amwell, 1790s-1880s contains information on Matthew, who was involved with the College during the East India Company period.
Other pages about named pupils or staff:
Margaret Ball (margaretrb @t haileybury.herts.sch.uk), assistant to the archivist at Haileybury, has provided the following comments on the above.
Haileybury College was built (1809) by the East India Company as a training college for their civil servants who after two years were sent out to India. The college closed 31/01/1858 because of an Act of 1855 to relieve the East India Company from the Obligation to maintain the College at Haileybury (not because of the Mutiny)
J F Bellman died at Nairobi, Kenya, 21/01/1966.
The picture of Quad must have been taken after the formrooms were built in 1908.
C Hawkins was an Assistant Master at Haileybury 1879 - 1911, Housemaster of Colvin 1886 - 1911.
Extra Post Card images.
click on thumbnail picture

Clock House

Haileybury College

The Library

Swimming Bath

S. A. Memorial

War Memorial




If you can add to the information given above tell me.
| | | |
| --- | --- | --- |
| | | |
| August 2009 | | Links to pupil pages |
| November 2010 | | P C of Terrace |