This book says that the Hunt owes its origins to the Countess of Salisbury, who formed a pack in or about 1775. Owing to ill-health she handed the hounds over to the Hertfordshire Hunt Club in 1819 but she remained in some sort of control until 1828 when she was succeeded by Mr Thomas Sebright. Details are then given of the Hunt under succeeding Masters of the Hounds.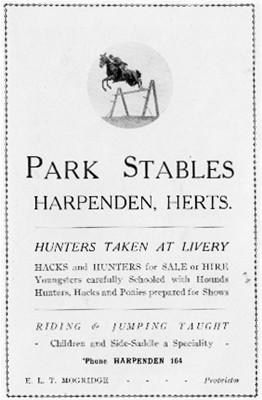 The booklet gives details (including winners) of Puppy Show and Point-to-Point Meetings between 1922 and 1930. For instance at the Point-to-Point Meeting at Highfield Hall, St Albans, on April 6th 1922 "There were five runners in the Farmers Heavy Weight Races. They were headed by Mr A. J. Reynolds' U Boat (Mr. D. D. Bulger), with Mr. R. Booth's Kildare (Mr. R, Booth) and Mr A. J. Reynolds' Scratchface (Major G. Moody) following in order." The 1923, 1924 and 1925 meetings were also held at Highfield Hall, with later meetings at Friars Wash.
There is a Hunting Season Report for 1930-31 and "A Few Hints" which includes the following advice relating to the motor cars, which were obviously becoming a problem.
Motor cars are not taboo at meets of the Hertfordshire, but that does not mean that you can go out in your motor and follow the line the hounds take. That means spoiling sport and such a line of conduct is unpardonable. There is, however, the man who comes from a distance to hunt in legitimate fashion and who perchance is obliged to travel by motor car. To him I would say, see to it that your chauffeur does not follow on. ...

Remember then, always, that it is impossible for hounds to show any sport with lanes full of motor cars.

To the man who has not a long distance to go to the fixture, I would urge that he should not use the motor car at all as a covert hack. Let him rise half an hour earlier and ride his hunter on to the fixture. He can always do this easily enough when the fixture can be reached within two hours or two hours and a half. ...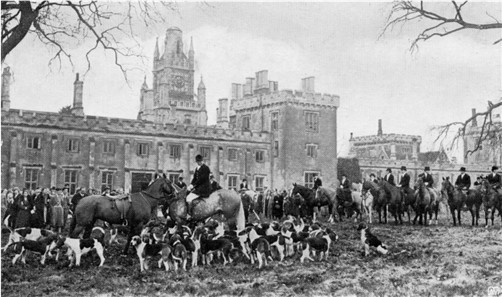 Meet at the Bonar Law Memorial College, Ashridge House
PRINCIPAL MEETS of the HERTFORDSHIRE
Ashridge House, Ayot House, Barton, Billington, Box Wood, Breachwood Green, Bricketwood Station, Broadwater, Brocket Hall, Bulls Green, Caddington, Cheverells Green, Chiltern Green, Clophill, Cupid's Green, Datchworth. Edlesborough, Gaddesden Place, Gorhambury, Gt. Wymondley, Hexton, Houghton Regis, Hudnall Common, Kennels, Kingsbourne Green, King's Walden, Leverstock Green, Lilley, Meppershall, Milwards Park, No Man's Land, Norcott Hill, Northwood End, Perry Green, Pirton X Roads, Preston, Pulloxhill, Putteridge Bury, Rabley Heath, Ringshall, Serge Hill, Shillington, Silsoe, Stags End, Strealtey, St. Paul's Walden, Sundon, Tewinwater, Tilsworth, Whipsnade, Wrest Park.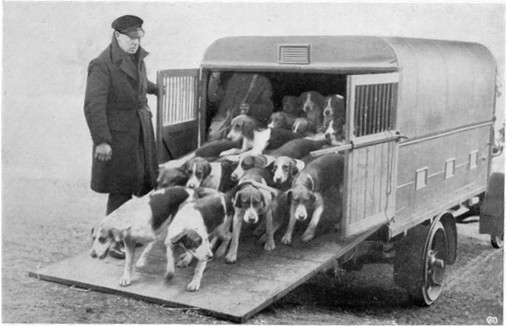 Releasing the Hounds at Hatfield Park
It would appear that this booklet was reprinted at interval - although the gap between the last event listed and publication suggests it was not annually. An incomplete copy was advertised on ebay in 2008 which had been published in 1929 with details of point-to-point meetings up to 1926. From the lengthy description it would appear to have been 4 pages longer, and most (but not all) of the photographs were different, the 1929 edition including pictures of the meet at Lilley, Preston and Luton Hoo and also one of The Late Lord Ludlow. [Master - 1921 -1923. Killed resulting from a fall from his horse]. None of the advertisers listed for the 1929 edition (Jarvis, Building Contractor of Harpenden; Giffens, Electrical Engineers;- Gibbs & Bamforth Ltd.; - Mandley & Sparrow; - Miskin & Rice, Electrical Engineers - all of St.Albans, &c.) appear in the 1933 edition.
William Scarth-Dixon was a author who wrote many books on horses and hunting including The Sport of Kings in 1900, Hunting in the Olden Days in 1912 (previewed on Google Books, reprinted 2004), The Hunting Year also in 1912, Foxhunting in the Twentieth Century in 1925,Men Horses and Hunting in 1931 (reprinted 2007) and The Complete Horseman in 1929. He does not appear to have any particular connection with Hertfordshire.