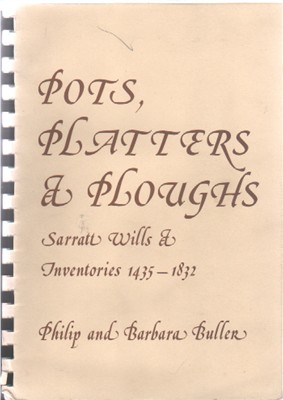 Pots, Platters & Ploughs
Sarratt Wills & Inventories
1435-1832
by Philip & Barbara Buller
[Authors] 1982?
Booklet, 21 * 15 cm, 326 pages, index
A very useful reference document which includes a large number of full transcripts of wills and inventories, together a very useful glossary (If your ancestor owned a "powderinge tub" do you know what they did with it?), a comprehensive name index, and an index of places mentioned in the wills.
========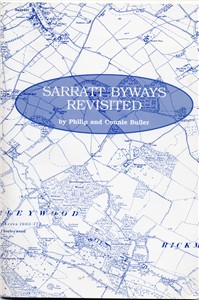 Sarratt Byways Revisited
by Philip & Connie Buller
[Authors] 2000
Booklet, 23.5 * 16 cm, 16 pages, and fold out map
In 1902 Herbert Tompkins published Highways & Byways in Hertfordshire, which describes the county by means of a number of walks. Chapter IV describes a walk from Rickmansworth, through Sarratt and on to Kings and Abbots Langley. This delightful booklet repeats the walk through Sarratt 100 years later, with some small moderns, and some circa 1900, illustrations.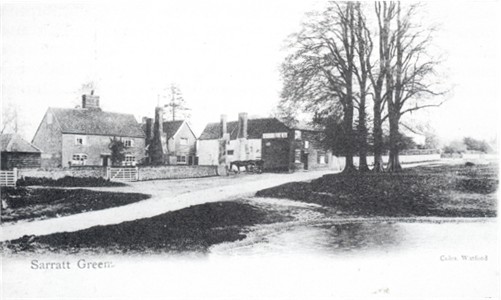 Sarratt Green (from a postcard by Coles of Watford)
The large pond at the north end of the Green with the four lime trees planted 'four square' behind. A horse waits patiently outside the Red Lion pub on this 1903/4 photograph.
========
by the Sarratt Women's Institute
A5 Booklet, 40 pages, published 1995
An excellent little booklet, with a series of walks (including maps and some line sketches) covering the parish, including some brief historical notes and observations on wild life.
There is a web page for Sarratt
If you can add to the information on any of the above books please tell me.
Last updated April 2006