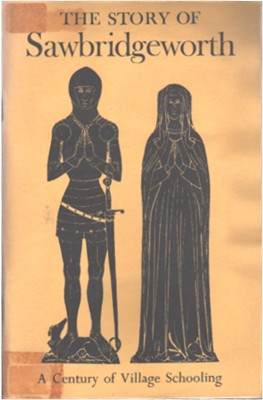 The Story of
Sawbridgeworth
W.E.A
Book 1:From Prehistory to the Present
Book 2: The Churches and the People
Book 3: A century of Village Schooling
Booklets, 21.5 * 13.5 cm, 190 pages total, some photographs and line drawings, no index.

In the 1960's Lionel M. Munby ran a series of tutorial classes for the Workers' Educational Association in association with the Board of Extramural Studies of the University of Cambridge. This series of excellent booklets is the result.
Book 1:From Prehistory to the Present
Contents: Introduction; The Settlement of the Wild; The Norman Conquest; Medieval Sawbridgeworth; Tudor and Stuart Times; The Eighteenth Century; The Improvement in Communications; The Railway Age; Mid-Nineteenth Century; The End of the Century; The Twentieth Century.
The Appendices include a map of Sawbridgeworth covering Cock Street (Bell Street), Church Street, Knight Street, London Road, Fair Green and the Square, Vantorts Road and Barkers Lane (Station Road), together with a list of who lived where based on the Tithe Award (1839), Pigot's Directory (1839) and the 1841 and 1851 census. For example:
Church Street
North Side
Thomas Cole, Baker, Confectioner and Toy Dealer
John Barnard, Malting

John Turner, Maltmaker

South Side

John Bacon, Grocer (Riches)

John Clark, Cordwainer

Mary & William Pratt, Watchmakers

Samuel Giffen, Shoemaker

Elizabeth Connel

Ann Richardson, dressmaker

John Barnard, Old Workhouse (Church House)
The Parish Church in 1837 (Book 2)
Book 2: The Churches and the People
Contents: The Middle Ages; The Appropriation; Chop-churches; The Reformation; The Puritans; The Eighteenth Century; Churchwardens Accounts; Bishops' Visitations; The Nineteenth Century; High Wych; The End of the Century; The Twentieth Century; Great St Mary's Church; The Society of Friends (Quakers); Congregational Church; The Church of the Most Holy Redeemer (Roman Catholic); Hillside Chapel; Bell Street Room.
The appendices: A list of rectors and vicars from c.1140; List of church good 1553; Places of divine worship 1689-1841; Glossary.
Book 3: A century of Village Schooling
Contents: The Schools and their Organisation; The new schools; Heating; Sanitation; Lighting; Keeping the schools clean; The schoolhouse; Hockerill's influence; New entrants; The annual inspection; Religion and the schools; Work in the schoolroom and out of it; Reorganisation; The Schools and the Public; Visitors; Children in trouble; Punishment; Unpunctuality; Truancy; The School Health Service; Medical inspections; Teacher in Trouble; Accidents; School meals; Attendance; The weather; Poverty; School pence; Children at work; More reasons for absence; Improvements in attendance; Staff; Adult Teachers; Pupil teachers; Monitors; The Schools in Wartime; The Boer War; The First World War; The Second World War; Evacuee children; School canteens in wartime; Education in wartime; Holidays and Festivals.
The Appendices: Payment by results; The Schools - Past and Present; Certified efficient schools; The good old days?; Children in agriculture; Industrial schools, Glossary.
Schools listed which opened before 1900
Sawbridgeworth National School 1826-1947

Sawbridgeworth Fawbert & Barnard 1839?-

Gilston 1856-1959

High Wych 1861-

Allens Green 1868-1960

Eastwick 1885-1943

Spellbrook 1890-