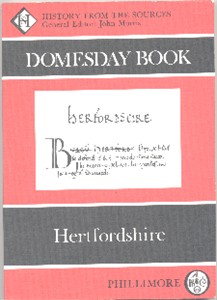 Domesday Book
edited by John Morris
Phillimore, 1976
The Domesday Survey was carried out in 1086 and is the first systematic record of the places in Hertfordshire. This book contains the original medieval Latin text and a modern translation.
For an example see Broxbourne
Locating Books
At the time this page was last updated new and second hand copies could be ordered online
There are other books which include information on the Domesday Book in Hertfordshire. The top of the range is an expensively produced three volume boxed set (Elephant Folio size) published by Alecto which includes a general volume on "Domesday Book Studies", second volume "Hertfordshire: Introduction and Translation" and the third "Hertfordshire: Folios and Maps" which reproduces the original document. New copies are advertised online at £376.99!!! However I found details of a second hand copy on sale in St Albans at £95.
Domesday Online
As part of its plan to make key historical documents more widely available the Public Records Office has made the Domesday Book available online at
www.nationalarchives.gov.uk/domesday
Page updated August 2006