Adjacent Parishes: Great Amwell, Hatfield, Hertford All Saints, Hoddesdon, Little Berkhampstead, Nazing (Essex), Roydon (Essex), Stanstead Abbots, Wormley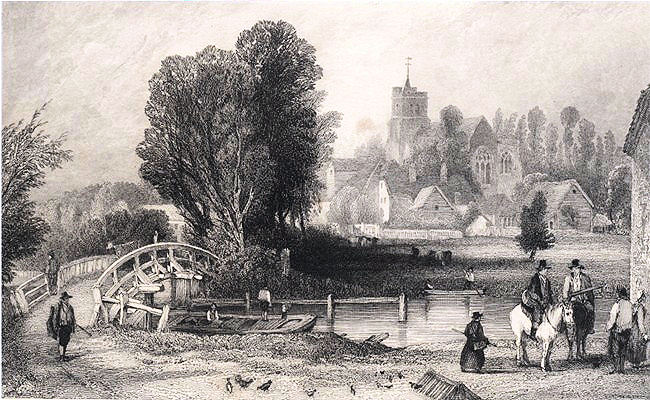 Broxbourne Bridge, early 19th century
Picture C. Marshall, Engraved J Henshall
Select Illustrated Topography (1839)
BROXBURN, a parish in the hundred and county of Hertford, 1¼ miles (S.) from Hoddesdon, containing, with Hoddesdon, part of which is in the parish of Great Amwell, 1888 inhabitants. The living is a discharged vicarage, in the archdeaconry of Middlesex, and diocese of London, rated in the king's books at £12. 6. 5½., and in the patronage of the Bishop of London. The Church, dedicated to St Augustine, is a large handsome edifice in the later style of English architecture, with a square tower supporting an octagonal spire, and a north and south chapel; the workmanship in the north chapel is of a superior description; there are several very fine monuments, and an ancient font. James I. on his way from Scotland, was entertained at the manor-house, where he was met by many of the nobility, and the great officers of state. Sir Richard Lacy, KNt., in 1667, bequeathed property for the erection and endowment of a school, which is free for all children within the parish. By deed in 1727, the Hon. Letitia Monson gave £1000, since laid out in Bank Annuities, for endowing an almshouse for six poor widows: there are also several minor benefactions for the poor.
Topographical Dictionary of England, 1831
On the Lea, Broxbourne
Charles Martin Postcard posted 1908
Xmas 1904
Best Wishes
for a
Bright and Happy New Year
from
Mr & Mrs E. B. Green
Broxbourne, Herts

In the 1901 census Edwin B[easley] Green (51) is described as "Managing Director of Property & Investment Company."
Book: Broxbourne and Wormley's Past in Pictures, by David Dent. Rockingham Press, 1995
Web Site: Our Broxbourne (associated with Hertfordshire Memories)
Web: Lee Valley Online includes historical information on the principal towns and villages on the River including Broxbourne.

Postcard published circa 1906 by Langsdorff & Co.

Adelaide, wife of Hugh of Grandmesnil, holds Broxbourne. It answers for 5½ hides. Land for 6 ploughs. In lordship3 hides and three virgates; 1 plough there.

4 villagers with a priest, a Freeman and two smallholders have 5 ploughs. 2 slaves.

1 mill at 8s; meadow, 6s, and 4s from hay, pasture for the livestock; woodland, 200 pigs.

Total value £3; when acquired 60s; before 1066 £7.

Archbishop Stigand held this manor. There was a Freeman there, the Archbishop's man and reeve; he had ½ hide; he could sell.

Domesday Book, 1086

See other postcards of Broxbourne and area published by Langsdorff & Co.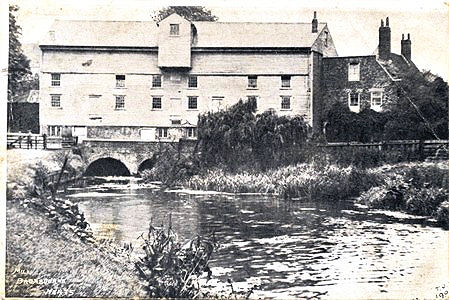 Mill, Broxbourne, Herts - Princess Novels Series, posted 1905
(same card, but different trimming, shows signature - bottom right as "T.V.T 1904" posted 1904)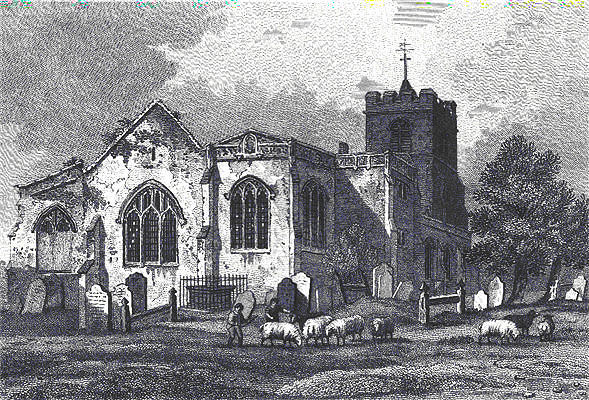 BROXBOURNE CHURCH
Herts
Engraved by Owen from a Drawing by Stockdale (circa 1807)
For the Beauties of England & Wales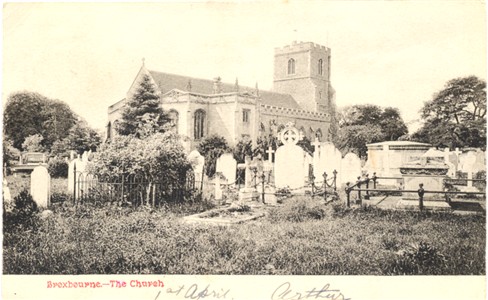 Broxbourne Church - Postcard posted 1905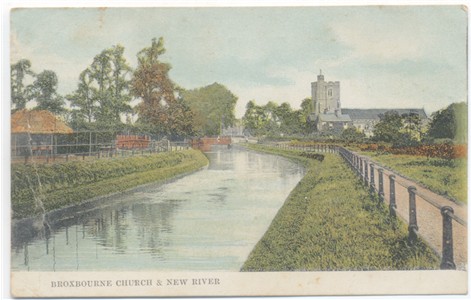 Postcard posted in 1906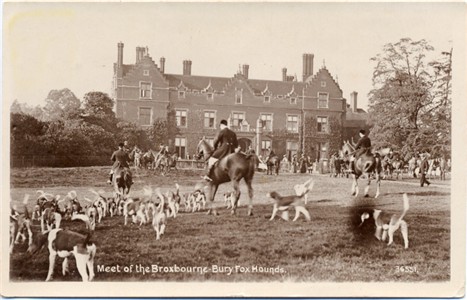 Meet of the Broxbourne Bury Fox Hounds
Published by G. Bryant, Stationer, Hoddesdon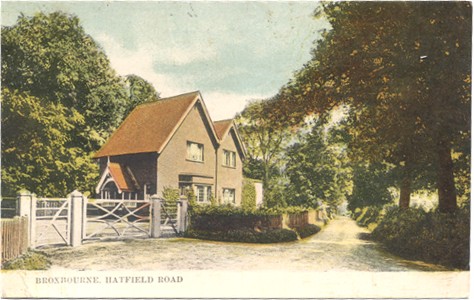 Hatfield Road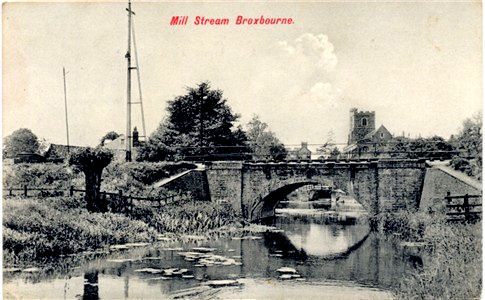 Mill Stream
Extra Post Card images.
click on thumbnail picture

Church Broxbourne

Baas Hill, Broxbourne

White Bear & Post Office, Broxbourne

The Mill Stream

St Augustine's

Old Mill Pool

The Mill

[Gordon Smith #2350]
If you know of other books, websites, etc, relating to this place, please tell me.