Wormley in History
Dorothy Bushby & William Le Hardy
Staples Press Ltd.1954
Book, 22 * 15 cm, 176 pages, with pictures and map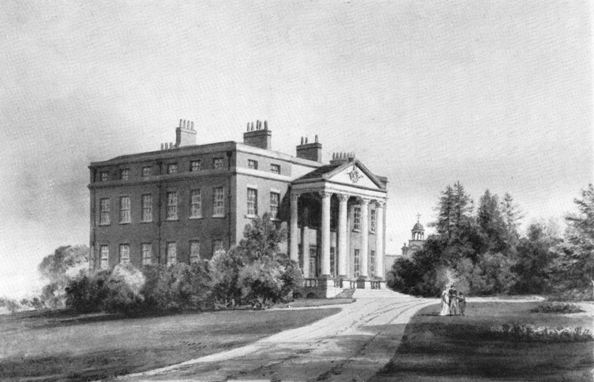 Wormley Bury in 1816 by John Buckler
| | |
| --- | --- |
| | |
| | Cover of 1977 Edition |
| | It is not clear whether this is just a reprint or whether it includes new material. |
| | | |
| --- | --- | --- |
| | | Forward |
| | | Preface |
| I | | Early Wormley |
| II | | Wormley before the Dissolution |
| III | | Dissolution to Restoration |
| IV | | The Restoration to the Arrival of the Humes |
| V | | The Humes at Wormley Bury |
| VI | | The Bushbys at Wormley Bury |
| VII | | Life in the Village |
| VIII | | The Village and its Church |
| IX | | Neighbouring Properties |
| X | | Wormley Biography |
| | | Epilogue |
| | | Bibliography |
| | | Table of Incumbents |
| | | Index |
| | | Sketch Plan of Wormley |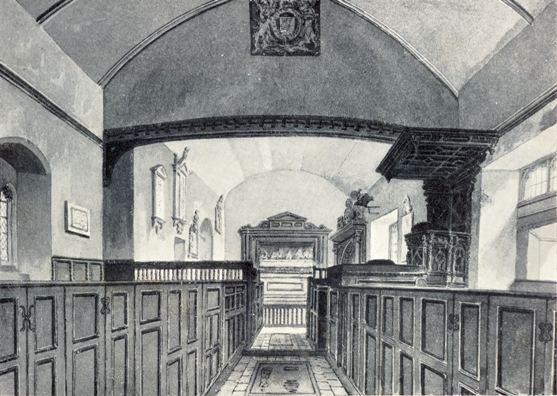 Wormley Church in 1830 by John Buckler, showing box pews
Up to the time of the 1883 restoration, the church had been equipped with the old 'horse box' type of pew. Great jealousy existed among the parishioners as to their occupation and mention is made to such disputes in the parish registers.
In 1698 we learn that Samuel Harris had the impertinence to enlarge the pew immediately below that in which Sir Benjamin Maddox, of Fernbeds, usually sat 'without the consent either of the parson or of the churchwardens', and a few years after similar trouble arose over the next adjoining pew occupied by Samuel Croft.
In 1783 Sir Abraham Hume erected a new pew on the south side of the nave '12 or 14 feet square' and appropriated another 'adjoining to the reading desk' to himself and his family.
In 1844 all the pews were painted or stained and the floors and 'pavement' repaired where necessary, but in 1853 it was discovered that they were affected by dry-rot and Mr Smith, an architect, was instructed to arrange for new floors to be laid under the pews.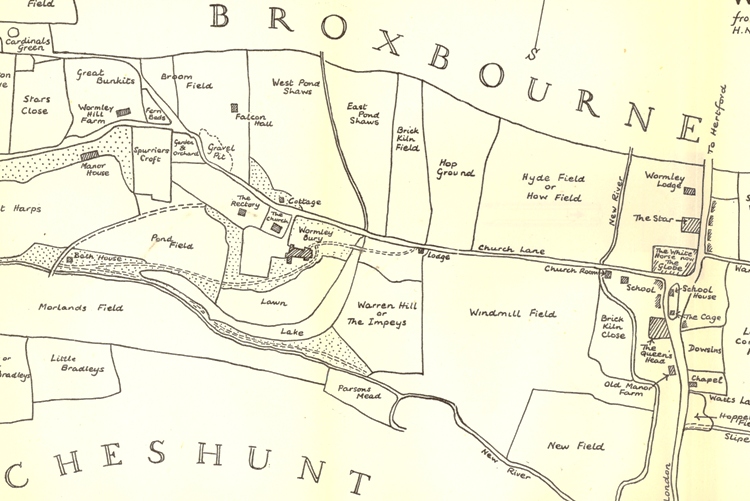 Section of a sketch map of Wormley in 1908
There is a web page for Wormley
Locating Books
At the time this page was last updated there were a number of second hand copies available online.
Page updated September 2010