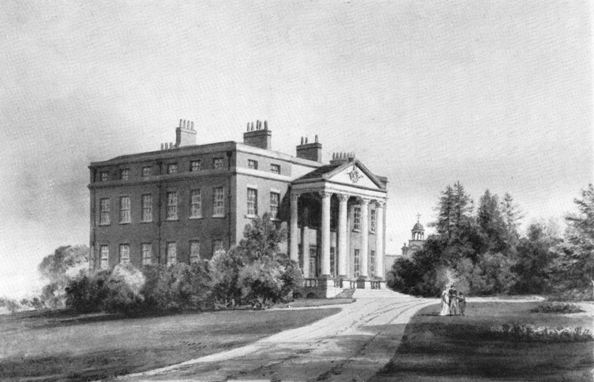 Wormley Bury in 1816 - from Wormley in Hertfordshire
Wormley is in the south-east corner of Hertfordshire, and sandwiched between Cheshunt and Broxboume. It is unusual since it retains the long rectangular shape of a Saxon village, rising from the low-lying river Lee to the high ground bordering the Lee valley, and lies almost due east to west. It is traversed by two major roads, a railway line and a canal, which divide the village into several quite distinct areas. Beside the river Lee is an area of old flood plain and marshland which was once covered by glass-houses and was a major region for the production of salad crops. This trade has become uneconomic in competition with warmer countries and the land is now in the process of development as part of the huge Lee Valley Regional Park which covers some 23 miles from London to Ware. The marshland ends at the London to Cambridge railway line and just over the level crossing is a dense area of housing, some old and newer housing estates with a well-used Community Centre and a separate Over 60s Centre. ... At the top of the hill stands Wormley Church, half a mile from today's village. It was founded well over 900 years ago and was originally administered by Waltham Abbey. At the extreme western end of the village is a remnant of our Roman history, in the form of a grassy track through woodland) all that is left of the once-busy London to York Roman road called Ermine Street.
Extract from "The Hertfordshire Village Book"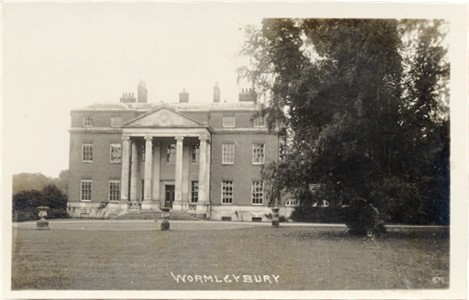 Wormleybury
Adjacent Parishes: Broxbourne, Cheshunt, Hatfield, Nazing (Essex)
If you know of other books, websites, etc, relating to this place, please tell me.