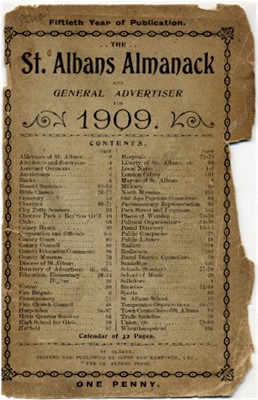 Fiftieth Year of Publication
St Albans Almanack
and General Advertiser
1909
Gibbs & Bamforth, 1909
A very comprehensive document giving virtually everything you would want to know.
Aldermen of St Albans; Architects & Surveyors; Assistant Overseers; Auctioneers; Banks; Benefit Societies; Bible Classes; Cemetery; Charities; City Petty Sessions; Clarence Park Recreation Ground; Clubs; Colney Heath; Corporation & Officials; County Council; County Education Committee; County Museum; Diocese of St Alban; Director of Advertisers; Education, Elementary; Education, Higher; Elstree; Fire Brigade; Freemasonry; Free Church Council; Harpenden; Herts Quarter Sessions; High School for Girls; Hatfield; Hospitals; liberty of St Albans; Local Notes; London Colney; Mayors of St Albans; Military; North Mimms; Old Age Pensions Committee; Parliamentary Representation; Park Street and Frogmore; Places of Worship; Political Organisations; Postal Directory; Public Companies; Public Libraries; Radlett; Redbourn; Rural District Councillors; Sandridge; School of Music; Solicitors; Societies; Sport; St Albans School; Temperance Organisations; Town Councils of St Albans; Trade Societies; Union, etc; Wheathampstead.
~~~~~~~~~~~~~~~
St Albans Public Library holds photocopies of The St Albans' Almanack from 1881 to 1900 and these also include trade and street directories. The early issues, and to a lesser extent the later issues, tend to only record businesses when there is an advert. A search for information on the Hertfordshire Standard (see Truman PRESS, St Albans, Late 19th Century) showed that the earlier issues fail entirely to mention the existence of this paper, and the later ones do no more than mention it in the street directory section. While, in theory, it is less detailed, the Kelly's Hertfordshire Directories (which are only available at about 4 year intervals) is far more reliable in that it reports businesses, etc., whether or not they have paid for adverts.

The format described here seems to date from the date when the Kelly's Directory for St Albans was first published. See Directories of Individual Towns
This advert comes from the Herts Advertiser of 2nd October 1875, advertising the 17th edition, for 1876. suggesting the first edition was published for 1860.

It is not known whicj, if any, of the early editions survive.
Page updated October 2009