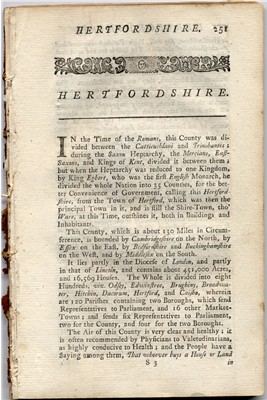 Books on Hertfordshire
The English Traveller
'The English Traveller: Giving A Description Of those Parts of Great-Britain Called England and Wales. Containing
I. A particular Survey, both Geographical and Historical of every County in the Same.
II. An Ample and Accurate Account of all the Cities, Borough,s, market-Towns, Villages, Rivers, Royal-Palaces, Noblemen's and Gentlemen's Seats.
III. The Fairs, Trade, Commerce, and Product of each County; of the Rarities both natural and artificial; of the eminent persons born, or who have resided in them, and of the extraordinary Events that have happened in the same.
IV. A Map of every County, from the best and latest Observations; wherein are marked the Number of measured Miles, and the usual Roads from one Post-Town to another, after the designs of Herman Moll.
V. Of the Isles of Wight, Mana, Jersey, Guernsey, and other British Isles, with the Maps of the same. London: .'
Printed for T. Read, in Dogwell Court, White-Fryars, Fleet-street. MDCCXLVI
[The text appears to be identical to Samuel Simpson's The agreeable historian.]
For a short extract see Long Marston
Locating Books
Most copies of this book are likely to have been broken for the county maps - rare.
Page updated January 2007