Harold's Town and its Vicinity
Waltham Abbey, Waltham Cross, Cheshunt and High Beech
A Handbook for Visitors
by Freeman Bunting
Published by Homeland Association, 1905-06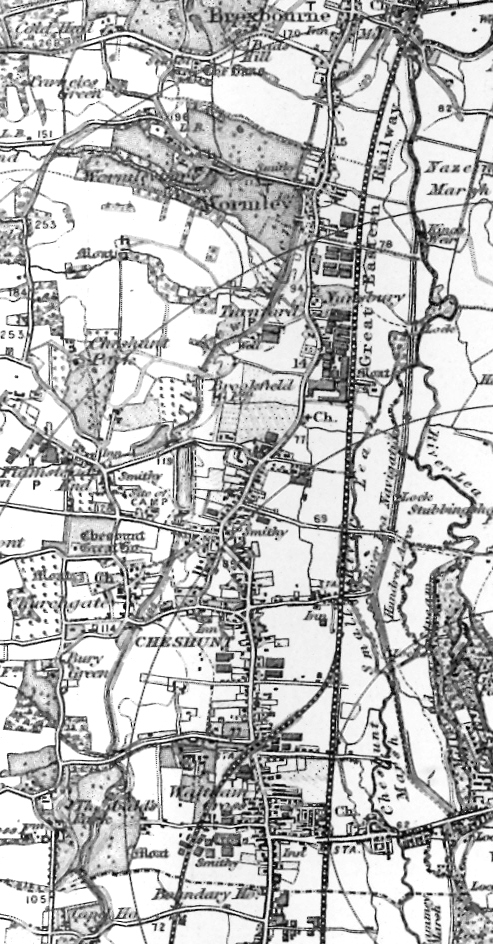 Contents
Bibliography

Prefatory Note

Waltham Abbey

A Ramble to Epping Forest and High Beech

Waltham Cross and Theobalds

Cheshunt and its surroundings

A Chronology of Waltham Abbey

Ordnance Survey Map

Adverts
This is one of the slimmest volumes of the Homeland Handbooks series I have seen, and concentrates on Waltham Abbey. There are very few adverts from Cheshunt (one illustrated below) and there are more for Waltham Cross.
Sample Extract
The highlands of Cheshunt are all of a beautiful character, and the climate of these elevated. situations is particularly healthful, the air being clear and bracing. 'To the north lie Hammond Street, Appleby Street, and the beautiful sylvan hamlet of Beaumont Manor; to the west is the pleasant old village of Goff's Oak, with pretty Newgate Street beyond, and the noble domain of Wood Green Park adjacent. More to the north is the picturesque old hamlet of Cuffley, to the curative waters of whose well King James frequently repaired. From Cuffley one may enjoy a very fine view of the Lea Valley and the richly timbered undulations of Epping Forest. The little place is effectually cut off from the affairs of ordinary civilisation, and is as isolated as a hamlet in the heart of Warwickshire.
Goff's Oak is a pretty little place, with many interesting features about it. Its numerous cottages - there is only one good-sized house - lie, irregularly disposed on either side of the road, often behind ample gardens beautiful with lilies and larkspur, rocket, wallflowers, hollyhocks, and other old-time flowers. It gains its name from a famous old oak tree said to have been planted by one of William the Conqueror's heroes, Sir Theodore Godfrey, to whom lands here had been assigned (hence Godfrey's - Geoffrey's Oak - Geoff's ­ Goff's Oak). The venerable tree, of which only the trunk now remains, has a girth of over twenty feet at three feet from the ground. It reminds one of the beautiful lines of Dryden:
The Monarch Oak, the Patriarch of the Trees,
Shoots rising up, and spreads by slow degrees;
Three centuries he grows, and three he stays,
Supreme in state ; and in three more decays.
Adverts can often contain interesting additional information. Clearly H.J. Bolton was concerned to promote the quality of his milk - and Walter Lawrence wanted to make it clear that he been in the business long enough to know what he was doing. The reference to Cheshunt House is interesting but it is probably not the one mentioned in BOWER, Cheshunt, circa 1850.
There is a web page for
Cheshunt
and
Waltham Cross
Page created July 2007