Early Days, 1882-1889
BERNARD'S HEATH, although touching the boundary of the Borough of St. Alban's, was in the parish of Sandridge, which had been given to the Abbey of St. Alban's by King Offa in the 8th century. In the late seventies and early eighties of the 19th century small houses began to spring up along the Sandridge Road, facing the Heath, and in Culver Mead, near the Brick Yards. It was known as " Snob's Island," and in winter was separated from the City of St. Alban by dreary mud wastes. Yet it grew; houses springing up gradually in Culver Mead and Boundary Road, some being within the city boundary and some without; but all in the Parish of Sandridge.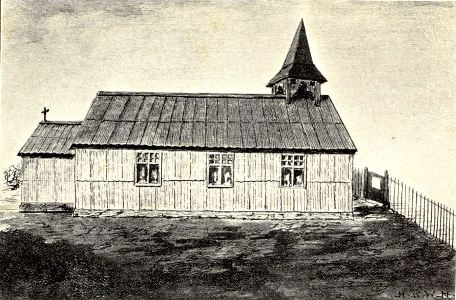 The Vicar of Sandridge at that time was the Rev. Dr. Griffith, who had been presented to the living in 1872 by his old pupil Earl Spencer. He was a ripe scholar, a most loveable man, a keen archaeologist and a faithful parish priest - a broad-minded Evangelical of deep spirituality. It was his wise and far-seeing care that secured a little plot of ground in Culver Road in the year 1882; and there he erected, at a cost of some £250, an iron building to serve as a little school-church, which became by GOD's blessing the centre of the spiritual life of the District. There are a good many folk still living on the Heath who remember going to school in that little building. It was used for a variety of purposes ­ and associated with the good works there set on foot, ever active and sympathising helpers, were Mr. and Mrs. Jacob Reynolds.
The Heath grew, and the Sandridge School Board had to provide a school for Sandridge New Town. This was opened in the early part of the year 1888, and the "iron room" ceased to be used as a day school. Then Rev. Dr. Griffith set on foot a scheme for improving the building and making it more suitable for use as a Mission Church, and between November, 1888, and June, 1889, a sum of nearly £170 was raised, of which fund Mr. Jacob Reynolds was treasurer. A little Chancel was built, and the interior was renovated, about £100 being laid out upon the building, some £25 being laid out upon the Altar and its furniture, and a small set of Communion Plate in white metal. The Altar is in the priests' vestry of the present Church, and the little white metal chalice and paten, inscribed, "Bernard's Heath, 1889," are carefully treasured. The little portable Font is also in the vestry.
The Church was duly licensed, and on Thursday, 20 June, 1889, the Chancel was dedicated by the Ven. Archdeacon Lawrance, who preached from the text, "Show Thy servants Thy work; and their children Thy glory."