Father: Francis Evered Reynolds (1804-1874)
Mother: Frances Finch (1797-1858)
Born: 8th December 1835 at Newton by Castle Acre, Norfolk
Census: 1841: Newton by Castle Acre, Norfolk
Census 1861: Described as a visitor (clerk. ummarried, aged 25, born Swaffham, Norfolk) to the household of William Davies (38, married, farmer of 194 acres employing 8 men and 8 boys, born ?, Bedfordshire) on Harpenden Common. (1866 Post Office Directory gives address as Lower Top Street.)

He was also describes as a visitor (agent, unmarried, 25, born Newton, Norfolk) with Elizabeth Barber (55 year old widow) at 59 Camden Square, Kentish Town, St Pancras, Middlesex. (The family story was that at about this time he used to commute to London to work - this suggests he may have commuted weekly, staying in digs in London during the week - and was recorded twice.
Married: 8th November 1864 at Ayot St Peter, Herts
Wife: Ellen Smith (1840-1935)
Son: Harry Finch Reynolds (1865-1947) Born 27th August 1865 at Sandridge.
Daughter: Lizzie Gertrude Reynolds (1867-1952) Born 20th March 1867 at Sandridge. Married Cecil Scott in Sandridge in 1895. See SCOTT, Oster Hills, St Albans, late 19th century
Son: Frank Ernest Reynolds (1869-1949) Born 1st January 1869 at Sandridge. Married Isabel Gibson Brough in Hawick in 1902
Son: Arthur John Reynolds (1870-1959) Born 18th August 1870 at Sandridge. Married Lily Barker in Kimpton in 1903
Census 1871: Farmer of 213 acres, employing 6 men and 2 boys, at Hammonds Farm, Sandridge
Daughter: Rose Mary Reynolds (1872-1948) Born 15th July 1872 at Sandridge. Married Arthur Frank William Martin in St Albans in 1912
Daughter: Ellen Frances Reynolds (1875-1950) Born 19th December 1875 at Sandridge. Married Richard Thomas Grove in St Albans in 1904
March 1881: Attended Jonathan Cox's funeral

Census 1881: Farmer of 528 acres, employing 18 men and 6 boys, at Heath Farm, Sandridge.

May 1881: Skimmed Mik in St Albans

Census 1891: Farmer at Heath Farm.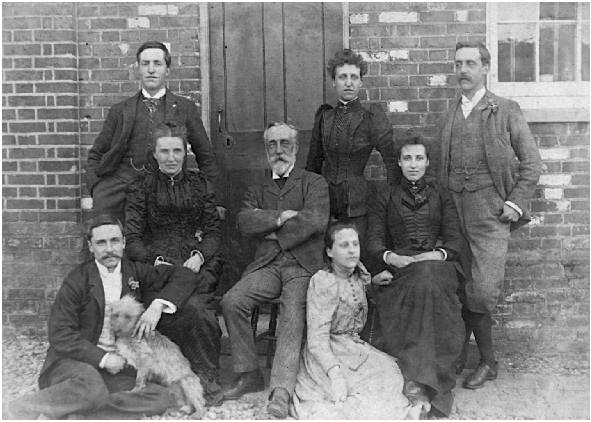 The Reynolds Family outside the back door of Heath Farm in 1892
John Lizzie Harry
Ellen Jacob Rose
Frank Ellen (Nellie)
Census: St Albans 1901: Farmer and Brickmaker, Heath Farm, Sandridge See My Ancestors in the 1901 Census

St Saviour's Church - 1905 - Became the first Vicar's Warden
Died: 18th January 1926 at Heath Farm
To be completed
See Heath Farm Dairy
See Crimes involving Jacob Reynolds and Heath Farm
See Brickmakers - Jacob Reynolds
See REYNOLDS, Sandridge Road, St Albans, circa 1900
See also Hammonds Farm and Eylotts, Sandridge, 19th/20th Century
Old News Items (incomplete)
If you can add to the information given above tell me.
Page August July 2007