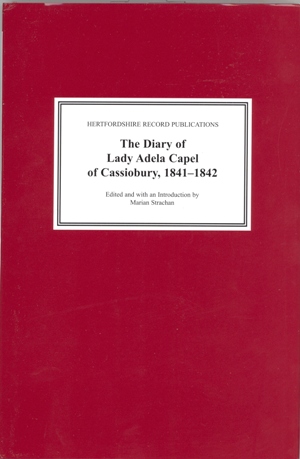 Books on Hertfordshire
A Victorian Teenager's Diary
The Diary of Lady Adela Capel of Cassiobury
Edited by Marian Strachan
Hertfordshire Record Publications, 2006
Hardback, xliv + 90 pages (also in paperback)
ISBN 0-9547561-3-4
Lady Adela Capel's diary provides fascinating insights into one year in the life of a thirteen/fourteen year old girl growing up in an unusually liberal Victorian aristocratic household. Her father, the sixth Earl of Essex, had inherited Cassiobury House, the elegant Gothic mansion near Watford, together with its extensive, beautiful estate, in 1839. This was the home and playground of Adela and her two younger brothers. The diary affords a unique and intimate glimpse into life at Cassiobury and Adela's relationships with her family, governess, servants, farm tenants, friends and visitors.
Alongside naive accounts of her daily interactions with the animals on the estate and her care of her pets, in what is almost a nature diary, we find references to various members of the aristocracy, including Queen Victoria. Adela also writes of journeys to London to visit her much loved grandmother, Lady Caroline Capel. Here Adela visits the theatre and mixes with London society but she clearly prefers her life in the country amongst her birds and animals.
The diary describes the everyday life and education of a sensitive, caring girl as she moves towards womanhood. Her passionate outburst on cruelty to animals is an illuminating comment on attitudes during this period.
The full Introduction brings together details of the Earl's family from previously unpublished sources. These are also used to trace the events of Adela's later life, where in womanhood she shares in the career of one of Scotland's prominent and controversial Victorian statesmen.
There is a web page for Cassiobury
Page updated December 2007