THE
HISTORY AND DESCRIPTION
WITH
Graphic Illustrations
OF
CASSIOBURY PARK
HERTFORDSHIRE
THE SEAT OF
THE EARL OF ESSEX
by John Britton
Published by the author, Burton Street, London
1837
-----------
BRITTON'S CASSIOBURY
-----------
When published in 1837, after nearly forty years in preparation, 20 copies of the "large paper" version, measuring some 17½ by 23¾ inches, were published which included a series of fine aquatints. In addition 150 "small paper" copies were published which had the illustrations in monochrome.
The Facsimile is in a somewhat smaller format, but most of the aquatints, and the text, are of the same size as the original.
-----------
CHAPTER I
On local History. -- The Cassii, Cassio, and Cassiobury. -- Julius Cæsar and Cassibelanus. -- Connection of Cassio with Verulamium and with St Alban's Abbey. -- History of the Manor.
CHAPTER II
Brief Memoirs with Pedigrees, of the Morrisons and Capels, Lords of the Manor of Cassio.
CHAPTER III
Topographical Descriptions of Modern Cassiobury, with Accounts of the Park, the Gardens, the House and its Pictures, the Cottages, Lodges, etc.
-----------
A Selection of the Magnificant Plates
(from the facsimile, significantly reduced in size!)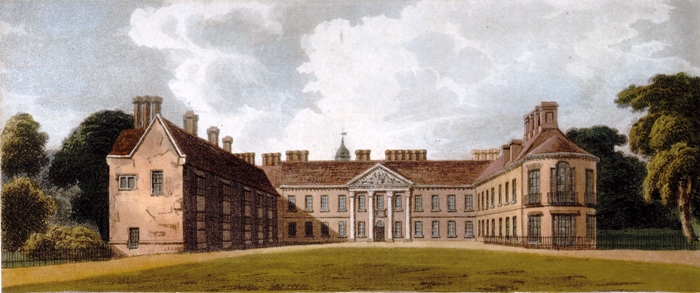 Part of Plate II
The Old House
Drawn by A. Pugin, Engraved by J. Hill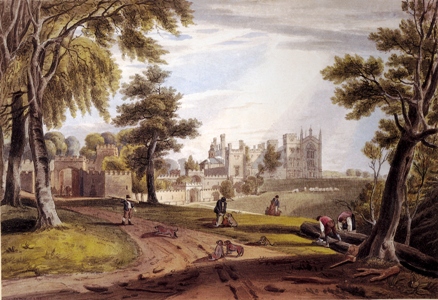 Plate IV
The PRESENT HOUSE FROM THE NORTH WEST
Drawn by J. M. W. Turner, Engraved by J. Hill
Drawn by J. M. W. Turner, Engraved by J. Hill
Detail of the canal
Part of Plate XVII
NAVIGATION BRIDGE
Drawn by A. Pugin, Engraved by J. Hill

Plate XVIII
VIEWS OF AN OAK AND AN ELM IN THE PARK
Drawn by H. Villiers, Engraved by J. Hill
Locating Books
At the time this page was last updated a damaged second hand copy was available online at about £825
| | | |
| --- | --- | --- |
| | | |
| December 2007 | | Page created |
| April 2010 | | Broken Links removed |