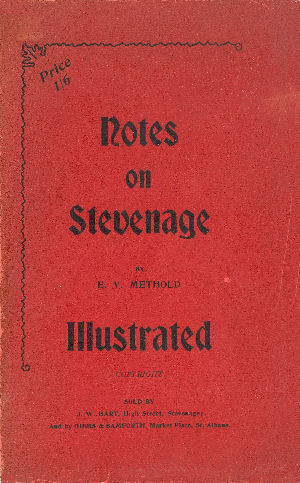 Contents
The Parish
Parish Boundaries
Manor of Stevenage
List of Rectors
Parish Church
Trinity Church
Wesleyan Chaple
Baptist Chapel
Bunyan Baptist Chapel
Roads and Coaches
The Inns
Swan Inn, White Lion, Old Castle, White Hart, Coach and Horses, Windsor Castle, Rose and Crown, Wheat Sheaves, Shoulder of Mutton, Royal Oak
Fairs
Markets
Grammar School
Workhouse
Pest House
Six Hills
Miscellaneous
Tithing, Gleaners' Bell, Tradesmen's Tokens, The Rookery, Fires, Paper-making, Gifts of Trees, Post Office, Waterworks, Number of Inhabitants
Notes on Stevenage Illustrated
E. V. Methold
Illustrations by C. Brocl
Printed by Gibbs & Bamforth
1902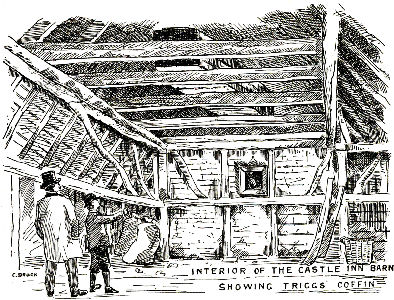 The Castle Inn
The Old Castle Inn in 1722 was owned and occupied by Henry Trigg, a grocer, who possessed considerable property in the parish. His name appears for some years before this date as church warden and overseer. In 1722 he offered to the parish the barn at the back of his premises for a workhouse at a yearly rent, the parish at their expense to make it fit for habitation; but this fell through, and Trigg dying soon afterwards this barn acquired great notoriety, on account of the curious wish he expressed in his will, as follows: "And as to my body, I commit it to the west end of my hovel to be decently laid there upon a floor erected by my executor upon the purloyne" (purlin). This house became, in 1774, a public-house called the Old Castle Inn, and John Ray, who was the then landlord, was rated for the poor-rates at £10 per annum. In the great fire of 1807, this house escaped destruction, though all around it were destroyed.
At this house the mail coach running from Hertford to Biggleswade, horsed and driven by a man named Plyer, stopped and changed horses, and it used to be a singular sight to see the horses led cut from the yard through the house and out of the front door into the road, the proper entrance to the stables being in the Back Lane, but to get there from the front or the house is a long way round. The Oundle coach also stopped here to take up and set down passengers.
For another extract see The Old Workhouse.