---
Apart from the chapter "In God's Acre" (which includes a picture of Hitchin Churchyard) plus a frontispiece "The home of the author's manuscripts" this book would appear to have nothing relevant to Hertfordshire.
---
In God's Acre
This chapter discusses epitaphs and includes a number from Hertfordshire churches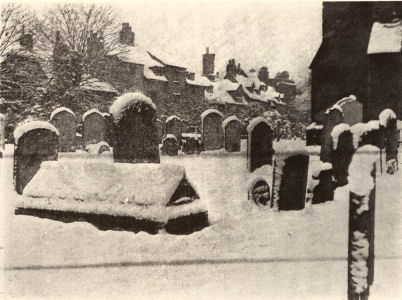 Snow Scene in Hitchin Churchyard
---
ELIZABETH CHRISTY. OB. 1800
She made haste and delayed not to learn the law of God for she did greatly delight in his commandments whereby she became exceedingly wise and graceful, pious, chaste, sincere, loving, obedient, pleasant, patient and guarded in all her senses. She was mild and tender in her mood not grave with sternness nor with lightness free.
Against bad examples resolutely good
Fervent in zeal and warm in charity
She was a pleasant Child She was a very dear daughter.
Is she not one of the Lord's redeemed?
For she was not defiled she was a Virgin
And in her mouth we found no guile
It is said of such they shall sing a new song
Unto the Lord which no man can learn
but the hundred and forty and four thousand
O Lord give us Thy heavenly grace that we with her
May so follow her good Example that
We may be made partakers of everlasting glory
---
Stevenage
MARY UNDERWOOD. OB. 1741
This world's a City full of crooked Streets
Death is the Market Place where all men meet
If life were Merchandise as Men could buy
The rich would always live the poor would only die.
An epitaph much in use at the time. I have met with it in ten graveyards in Hertfordshire alone. It comes out of an ancient ballad collected in Percy's Reliques
---
Watford
INSCRIPTION OVER AN ALEHOUSE WITH THE SIGN OF AN ANCHOR, AT WATFORD
Above behold the painter's touch
Does smiling Hope express
I vainly hope to do as much
'Tis drawing I profess
Tho' brush and pencil I use not
Nor do I much like chalk
Yet when my drawings go to pot
My Heads themselves wilt talk.
---
Cottered
What to vain mortals can a pleasure be
When no one part is from consumption free;
The head, the hand, the knee a palsy shakes,
The blood runs chill and every member quakes.
Death will the end of all my sorrows be,
And then I launch into eternity
---
Bennington
Here continues to rot the Body of Walter Clibben who with two of his sons robbed many persons. He was shot the 28th Dec. 1780 by Geo. North whilst he and his two sons were cruelly treating Mr. Benjn Whittenbury His Master. One son was executed for this crime in March 1783.
---
Cheshunt
WILLIAM WILLIAMS. OB. 1782
In silence here beneath a youth is laid
By whom the sports of nature were survey'd
With ravished breast o'er meads he did pursue
The started hare which o'er the landskip flew
By which pursuit his heart oprest with heat
Plung'd in the stream which nature thought so sweet
But now the stream a change to nature gave
And plung'd this youth deep in the silent grave.
---
See also for Yardley (Ardeley)
Locating Books
At the time this page was last updated second hand copies were available online
| | | |
| --- | --- | --- |
| | | |
| February 2011 | | Page Created |
| | | |